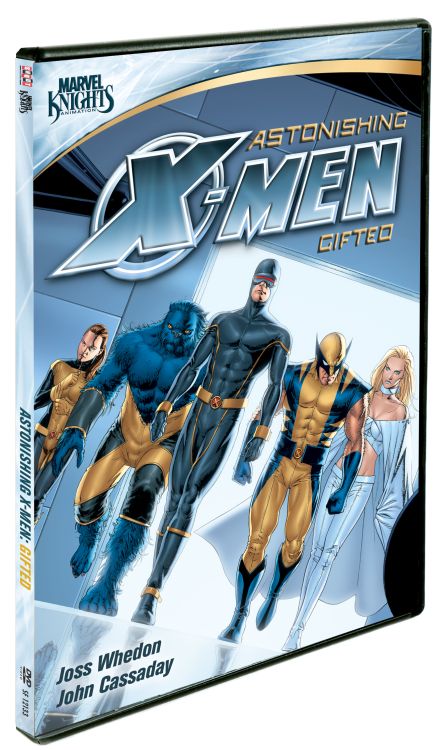 Here is something for that geek that you have on your list that your not sure what to get them. I have read the entire run of the series in trade paperback form and seeing the pages of the story that I read come to life is really gnarly. Remaining true to the heritage of panel-by-panel graphic storytelling, boasting groundbreaking graphics, sensational soundscapes and, of course, the explosiveness of the Mighty Marvel Universe, here comes the all-new, all-awesome Marvel Knights animation series.
Dream-team creators Joss Whedon (TV's Buffy the Vampire Slayer) and John Cassaday (Planetary, Captain America) present the explosive, all-new flagship X-Men series – marking a return to classic greatness and the beginning of a brand-new era for the X-Men! Cyclops and Emma Frost re-form the X-Men with the express purpose of "astonishing" the world. But when breaking news regarding the mutant gene unexpectedly hits the airwaves, will it derail their new plans before they even get started? As demand for the "mutant cure" reaches near-riot levels, the X-Men go head-to-head with the enigmatic Ord, with an unexpected ally – and some unexpected adversaries – tipping the scales!
Gifted is the first 6 episodes of the Astonishing X-Men – Gifted 3-part series and you can snag Astonishing X-Men – Gifted
for the holidays!
Ryan's Rating: 7 out of 10!!
Pros:   Easy access and good introductory way to introduce someone to the comic realm.
Cons:  You gotta wait for the continuation of the story arc.
The views and opinions expressed on this blog are purely that of the blog owners. Any product claim, statistic, quote or other representation about a product or service should be verified with the manufacturer or provider. I have been given a product free of charge, but that does not impact my views or opinions.
Comments