Surely you are as excited as I am, right? The boys and I will be first in line on release day!
Like THOR on Facebook, follow THOR on Twitter or visit the website!
THOR: THE DARK WORLD releases in theaters on November 8, 2013!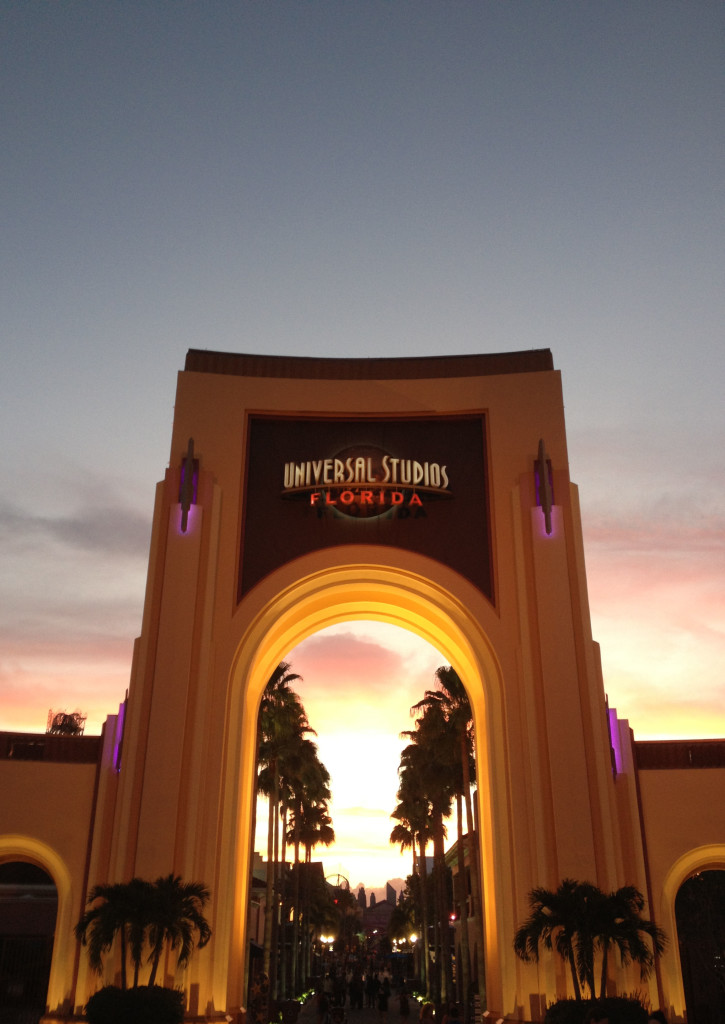 As some of you may know we took a little excursion down to the land of sporadic rain showers and an immense amount of lizards…the state of Florida. I was asked by Universal Studios to come and play for the weekend and cover some very exclusive events revolving around Despicable Me 2. I'll fill you in on the Despicable Me 2 stuffage in another post, but here in this post I wanted to tell you about everything else that we experienced. I wanted to make this list to fill you in on things that I think that are not to be missed and I just like to tell all of you what to do.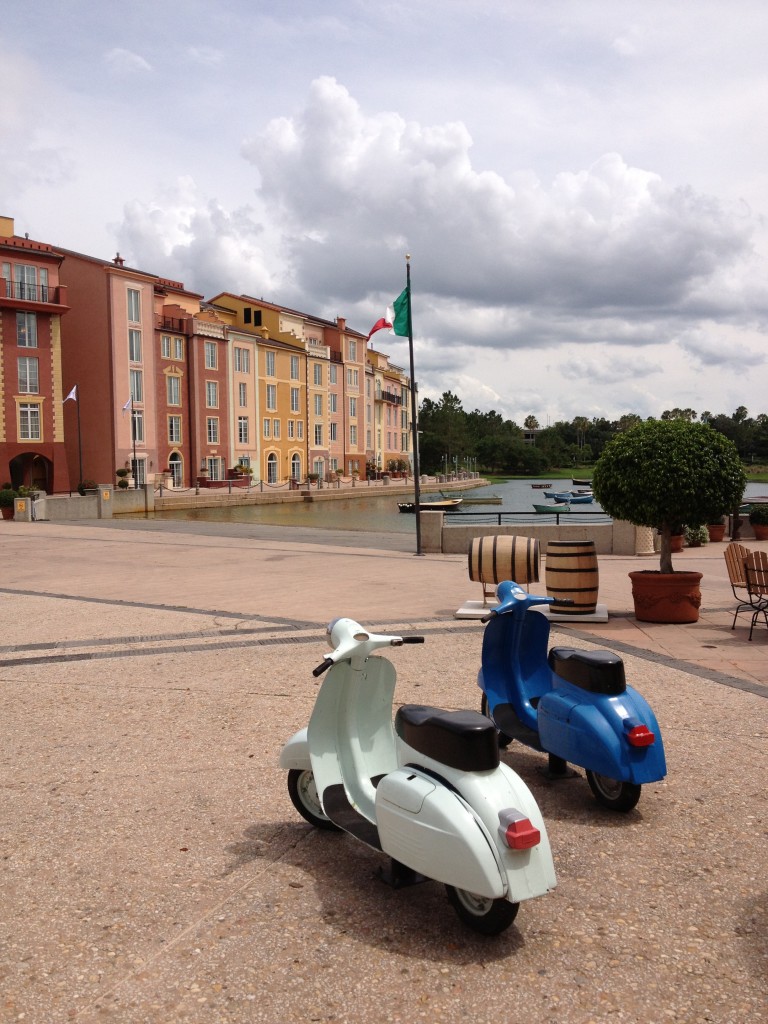 Stay at a Universal Studios Hotel

: During our time in Orlando we stayed at the Portifino Bay Resort just minutes from the parks. Not only are you just a shuttle, short walk, or river taxi ride away from the parks, but the hotels offer express passes given to every guest that enables them to skip the regular lines and get into the attractions a little bit faster. It was very beneficial to be so close to the hotel when we were in the park and torrential rain came down on us faster than you can say "E.T. phone home". We were able to walk out of the park and within five minutes we were shivering in the comfort of our own room. Not to mention the pools,

fantabulous dining options

, and stupendous staff at the Portifino that made our stay easy and memorable.

A Private Tour

: Ever wonder what is behind certain areas of parks that say "Employees Only" or "No Entrance to People Without a Costume Head?" Well, with a private tour at Universal Studios you can be lead behind all of those and even more. We had a guide that showed us the inner workings of the Spiderman ride, informed us on endless amounts of facts and trivia, and then proceeded to lead us to the front of every ride that we wanted to experience. We even rode a few a couple of times in a row…because we could! There are different times, prices, and options to check out if this is something that sounds like a winner to you.

Head of the line

? Yes please!

The Cat in the Hat Ride

: If you are a fan of Dr. Suess or just read the book The Cat in the Hat when you were younger, then you will really appreciate this ride. The ride is filled with just as many surprises as you round a corner as it does when you turn a page in the book. Perfect for feeding kids imaginations and great at scratching the nostalgic itch of adults.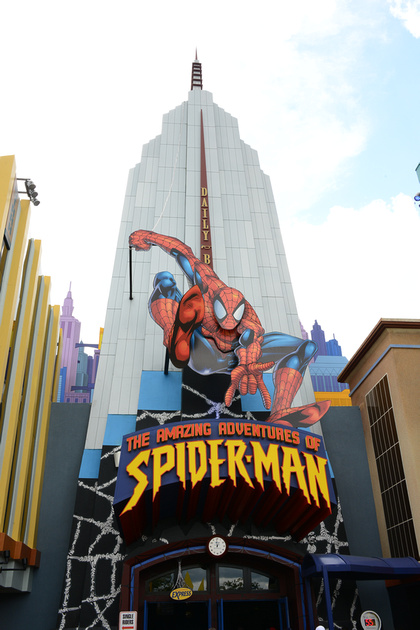 The Amazing Adventures of Spiderman Ride

: How many times does an attraction have to be deemed

"The Best

" before you finally break down and try it? I only had to be asked once and I was ready to swing into action on this ride. Yeah, sure there are newer rides and I'm sure some hardcore comic fans would nitpick characters and plot points of the ride, but none of that really matters once you get into the action. If I had to give some words to describe the ride I would have to say that it is spectacular, ultimate, superior,and just plain amazing.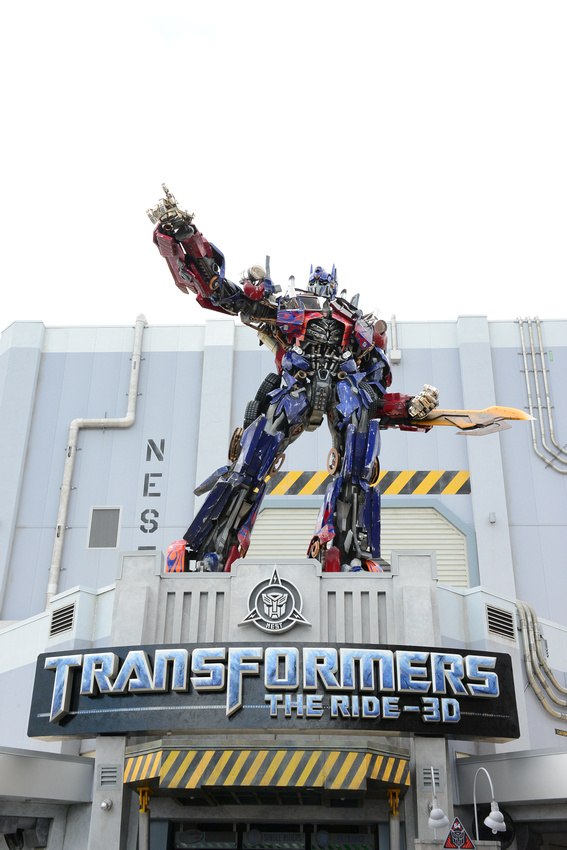 Transformers The Ride-3D

: Never has the anticipation of anything brought me closer to the point of peeing my pants than this ride. It may sound silly, I know. A grown man getting all hyped up about a ride that centers around robots from a distant planet that can change forms in an instant, that wage war upon two differing factions within their own race, threaten all humanity when their war comes to our planet, has been a very successful toy line for over 30 years, and introduced the new Camaro? Yes. This property does do that. I know women that pee by jumping just once on a trampoline and guys that tinkle when they sneeze. So there. My excitement is justified. It is not to be missed. The newest of the new and the best of the best. ROLL OUT!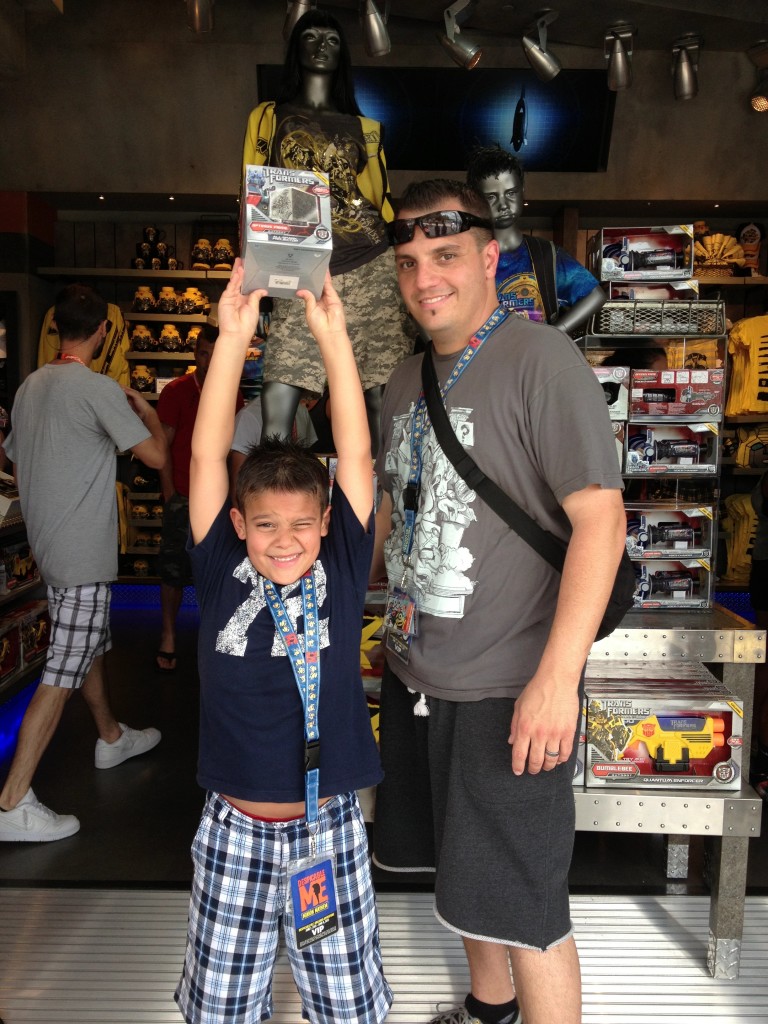 The Transformers Gift Shop

: Yeah, sure there are tons of Transformers in just about every store you go to. Shelves filled with the same old items that every other store has. But then empty again just as soon as a brand new figure comes out. What if I told you that there was a store that had every Transformers toy or memorabilia that your heart desired. Well then…the gift shop at Transformers the ride should be your destination. One of the best things is that you can find exclusive items that you can't find anywhere else except Universal Studios. From the series from the 80′s known as Generation 1 to the current incarnations of the live action movie and Transformers Prime, make sure you stop in here to spend some time before you ROLL OUT of the park.
Pose for a Picture with the T-Rex

: How often do you get a chance to pose with a T-Rex that won't actually bite you in half right after you snap a photo. Yes, I know there is a Spinosaurus lurking around another path in the Jurassic Park area, but I don't like the Spinosaurus. Everyone knows that the T-Rex should have won against the Spinosaurus in Jurassic Park 3, So, let's make sure that 'ol Rexy gets the attention he deserves.

E.T. Adventure

: Our tour guide informed us that Steven Spielberg said he would never ever make a sequel to the beloved movie E.T. Like most kids who saw this movie when they were young, I often wondered what E.T.'s home planet looked like. Spielberg did however, say that if there was to ever be anything that followed up the original movie, the ride at Universal Orlando would be the exact story and visuals that he would desire. Whether you're an adult or a child, this ride would satisfy the question that we would all love to ask the little Reese's Pieces lover himself….E.T., where's home…and what's it like?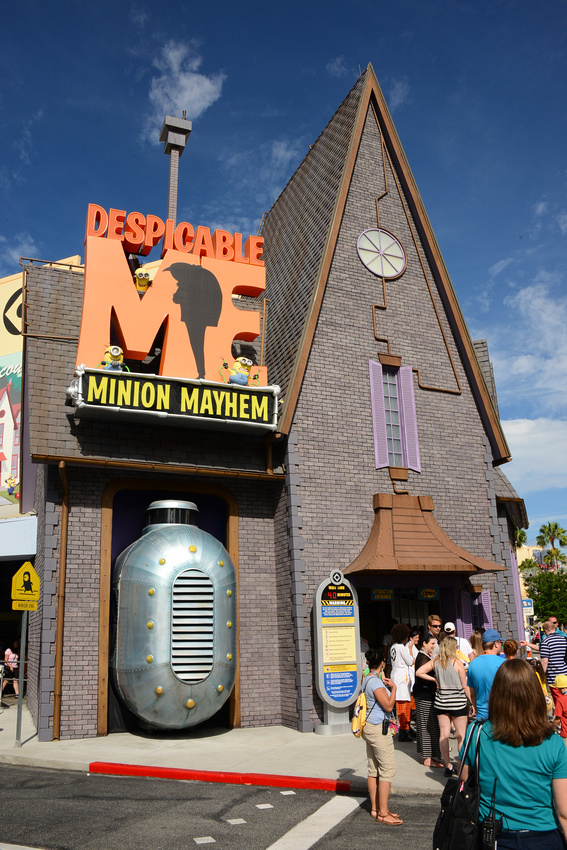 Despicable Me Minion Mayhem

:  One of the most entertaining 3D rides out there today.  You and your group are transformed into Minions and set out on an adventure throughout the lair of one of the notorious villains ever, Gru!  I knew all along that I wouldn't cut it as a Minion, but I guess you will have to find out how you got that way, how you get back to normal, and how you save the day in the process.  It is really cool to see how Gru and his family work so great together in this ride…almost like a team!

The Simpsons Ride

: A truly entertaining ride from the waiting line to the exit of the building. My kids aren't really old enough to appreciate or be allowed to watch The Simpsons, but from what they see and hear from the ride they really get a kick out of the family. My daughter hates real roller coasters, my middle boy loves them, and my youngest son is, well, too young. This ride is kinda like experiencing a 3D roller coaster with the added benefit of air conditioning.

The Harry Potter and the Forbidden Journey

: If you are a Harry Potter fan then this is not to be missed. To be able to fly around in the World of Harry Potter through a magical 3D experience is totally rad. Elements from different films all rolled into one concise adventure is what you'll find here. From dragons and spiders to Quidditch and the Womping Willow you will be blown away at how deep they dive into the franchise. Just remember: Help will always be given to those who need it at Hogwarts School of Witchcraft and Wizardry.
Ollivander's Wand Shop

: A full on performance is what you'll get at Ollivander's. As you walk into a small room stacked to the ceiling with thousands of boxes of wands you will be greeted by employee's of the wand shop and then hopefully be the one who is chosen to see what wand chooses you.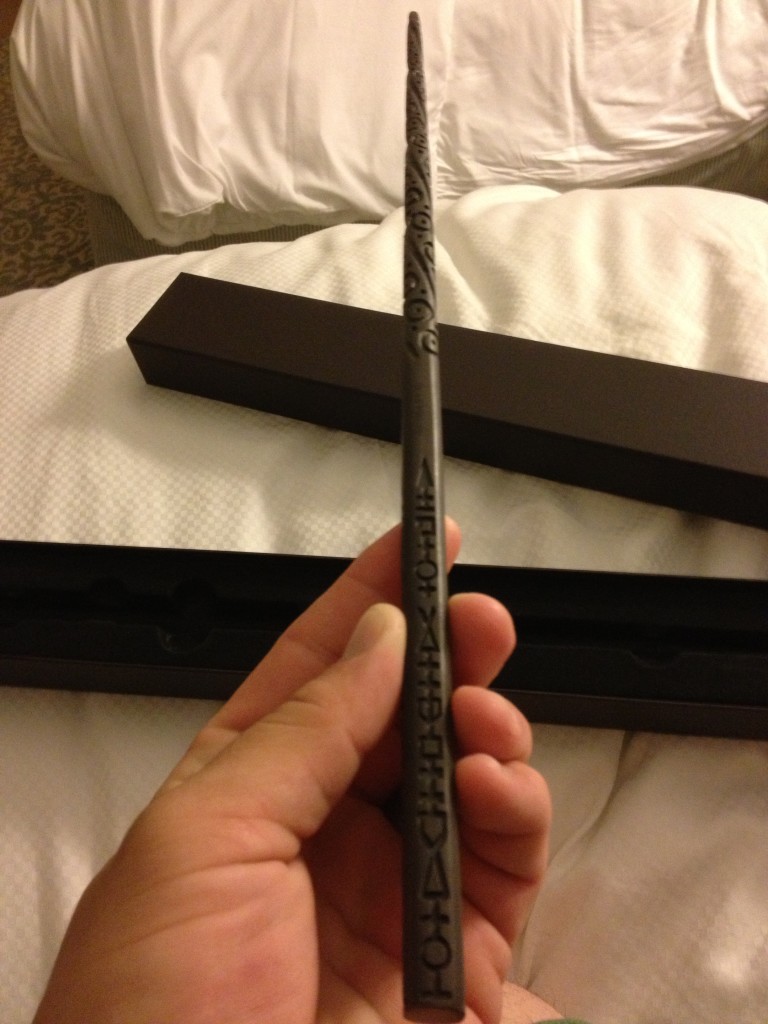 Buy a Wand at the Gift Shop

: Because you can only get by with pretending that a simple chopstick from the local Chinese buffet is a phoenix feather core with a holly exterior. Buy one…just buy one.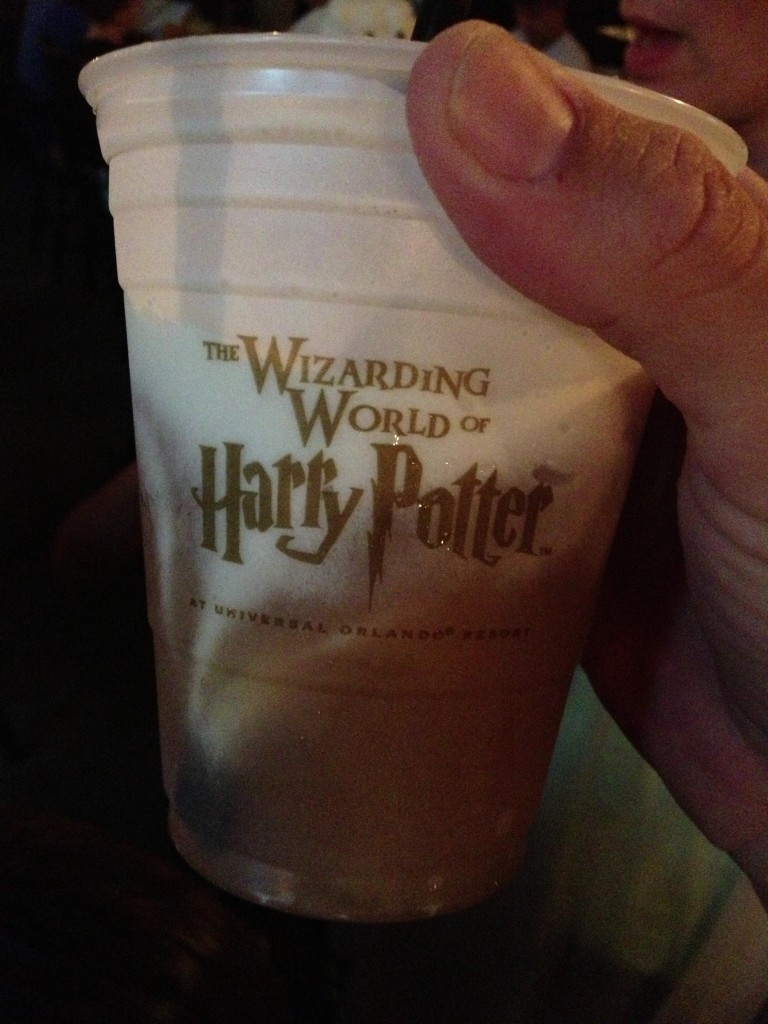 Have a Butterbeer

: I really shouldn't have to say anything else. It's Butterbeer. But, if you're still on the fence and want to know more I can give you guys a few details. Butterbeer is kinda like a cream soda on crack. Great butterscotch flavor topped off with a caramel tasting frothy foam. It is sold in a cup or collectible cup and is served chilled or frozen. Again, I say to all of you…when you go, you better get a Butterbeer.
If you can only plan one vacation or getaway for the entire year and you have to satisfy people from young to not-so-young, Universal Orlando has to be it.  My seven year old thought it was "epic-ly awesome" as he told us.  I thought it was more entertaining than ANY other theme park or family destination that I have been to anywhere in the country.  It's going to take quite a bit to top Universal Orlando as my favorite pick to take my family for our next trip.
Podcast: Play in new window | Download (Duration: 20:51 — 19.1MB)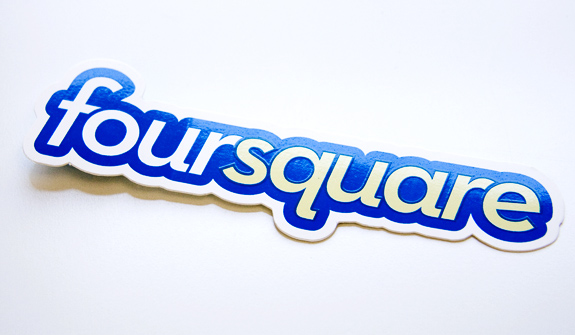 I think I need a step program. Maybe I need to attend meeting for people with addictions. Maybe I am in need of an intervention. I might even need a watchdog to look over every move I make. You see…. I am addict. I am an addicted to Foursquare.
Not the game played on asphalt that uses little squares and a big red playground ball. No. I'm talking about the app that you have on your mobile device. Foursquare is an app that allows you to "check in" to any type of venue, business, event, restaurant, attraction, museum, grassy meadow, pothole, or house on the planet. You get awarded points for checking in and then are pit against your social friends in a battle to see who is the busiest body in your circle. You can unlock badges, then different levels in the badges (example: I am a Level 5 Mexican food master) and then finally when you visit a place the most you become the mayor. I never thought about running for an office but obviously Foursquare thinks that I need to bring some sort of authority over to the Toy's R Us near me.
It started out as something innocent…doesn't it always? I checked in to a few places and kinda got a cool sense of that I was out on the town and contributing to the social atmosphere with my awesome check in's. My wife then got the app and we started checking in together. We got extra points for checking in at the same time, going into the same places, returning together at places. Then I noticed that other people had visited some of the same places I had. Then…I noticed that they…stole…my…mayorship from me. I would not stand for this. They thought this was a game and I was not playing around.
I checked in everywhere I could. Night and day. I was getting obsessed. The more I checked in, the bigger the target got on my back. I was sick to my stomach at the thought of logging in and seeing how many red-numbered notifications I had of someone stealing a place from me, becoming mayor, or worse….a friend request of someone who undoubtedly would one day aspire to steal what I had won. Nothing is worse that to log in and see that your wife has stolen five mayorships in one trip to the mall.
I am doing better now. I don't have to check in to places in my house like the couch, the bed, or even the attic just so I can hold on to mayorships much anymore. When I see someone checking in to one of my places I just put my phone away and daydream about smashing their phone with a sledgehammer.

I know it's been awhile since new episodes and I have plans to do more but first I wanted to release what I recorded right at the turn of the year. So even though these are talking about things around Christmas time I still think that they are worth putting out. Also, now that my wife is un-pregnantizized I can get back to doing things on a regular cycle just like her!
Enjoy!

Podcast: Play in new window | Download (Duration: 24:18 — 22.3MB)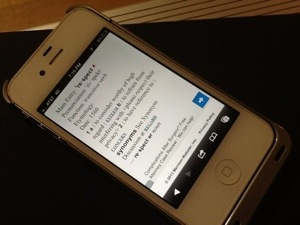 My wife described something that happened the other evening, to me. My father-in-law had asked one of his grandchildren to do something for him. The grandson responded with "bite me." Now, my brother-in-law and his wife were sitting there, but didn't say anything. Evidently, they saw no problem with their son saying that to his grandfather. (They did say something to their son, later.) My wife Sue told my mother-in-law that if I had been there I would have corrected my nephew on the spot, even with his parents there. I had to stop and think about that and Sue was partly right, (don't tell her I only said partly.) I would have said something, but it would have been directed towards my brother-in-law.
A child not showing respect is a pet peeve of mine. I will not let my kids disrespect my wife, or our parents in any way. When they do, (It does happen because they're teenagers.) I correct them and they will apologize for being disrespectful. They know if they cross that line, I will put them back behind it. Being funny is one thing, being disrespectful is another, and its my job as their dad to teach them the difference.
Sue later asked A (my son) if he heard the comment, but he said no. She then asked what would have happened if he had said it. He just smiled and said, "I would have been thrown through a window." (Always the comedian, but respectful.)
Respect goes a long way in a marriage.
Brian
Yup. Another episode!
Podcast: Play in new window | Download (Duration: 22:46 — 20.8MB)
I know this may be a strange combination to hear together but I think my new favorite Christmas song is Cee Lo Green's rendition of "Mary Did You Know". It, combined with a preview of an upcoming series that I really am truly excited to see, brightened up my weekend.
"THE BIBLE" is an epic 10-hour television series produced by Roma Downey (Touched By an Angel) and Mark Burnett (The Voice, Survivor, Shark Tank, Celebrity Apprentice) premiering on 3/3/13, and Blu-ray and DVD soon after.
Check out THE BIBLE on Facebook here:  
https://www.facebook.com/BibleSeries
 and Twitter 
@bibleseries


Over the last few years sound has become more important than ever. Loud kids, barking dogs, a yelling wife (not really..okay sometimes)..ALL of these things make it hard to hear the real music sometimes because it's hard to drown out the junk of our lives. I know that me and my daughter really like to use music to escape the worries of the world. So, we really have been on the lookout for a great set of headphones that can help us hear the soundtrack of our lives play out.  And you can forget anything by any "Dr's" because this is what you need for your sound solution.
Enter SOL REPUBLIC. These are THE best sets of headphones I have ever had the privilege of using.
SOL REPUBLIC is a global consumer electronics company dedicated to enhancing people's lives through better-sounding headphones. Founded by consumer electronics veterans Kevin Lee, Scott Hix and Seth Combs who share a vision of ridding the world of hollow-sounding headphones and to make great sound attainable for everyone. SOL REPUBLIC is comprised of music fanatics who develop products from the ground up to make headphones that look, sound and feel unlike anything else in the market. More than just a headphone company, SOL REPUBLIC celebrates the people who make music, love music and are devoted to music. We are committed to creating a community where music fans, athletes and all dreamers are welcome to put a voice to their ideas, share their sound, and be heard.
The ones that my ears fight over are the Tracks HD Anthem on-ear headphones and the HD Amps in-ear headphones in aluminum. My daughter got a pair of the Tracks HD on-Ear headphones in purple and said that she has been hearing parts in songs that she had never noticed before.
Tracks HD are the first interchangeable headphones to deliver incredible sound, style and technology.
Powerful Sound You Can Feel: Featuring V10 Sound Engines, Tracks HD are fully loaded with deeper bass, higher vocal clarity and crisp vocals so you can feel the full power of your music.
Listen In Comfort: Our SonicSoft™ Speaker Pads and extra wide ear cushions let you enjoy your music in comfort for hours.
Virtually Indestructible: Constructed of a seriously advanced polymer compound, our FlexTech™ Sound Track headband is built to withstand heavy abuse. Twist it, bend it, drop it – it's not going to break on you.
Personal Style: The world's first interchangeable headphones, you can swap out our Cleartalk™ cables and Sound Track headbands with ease.
Slim-Fit Neo Case: Neoprene sleeve lets you transport your headphones with ease.
3-Button Mic + Music Control: Lets you adjust the volume, pause/resume/skip music and answer/hang-up calls. The high clarity mic captures every word possible.
Compatibility: 3-button mic + music control is designed specifically for full feature compatibility with recent generations of Apple devices. The audio and mic are likely to work with most devices that have a 3.5mm jack, including but not limited to, Android, Blackberry and Windows devices.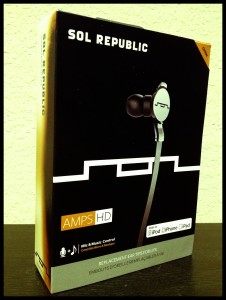 Amps HD in-ear headphones are designed to deliver incredible sound, style and technology.
Ear Tips For Life: Losing ear tips is easy. Now there's finally a solution. We send you ear tips for life. No questions asked.
Powerful Sound You Can Feel: Featuring i6 Sound Engines, Amps HD are fully loaded with deeper bass, higher clarity and crisp vocals so you can feel the full power of your music.
Listen In Comfort: Including four sizes of ear tips,you're sure to get a comfortable fit and perfect seal for hours of music bliss.
Secure Fit: Using StayFit design, Amps are angled to fit perfectly in your ear instead of falling out.
Wide-mouth pocket case: Our pocket case makes it easy to transport your Amps HD.
3-Button Mic + Music Control: Lets you adjust the volume, pause/resume/skip music and answer/hang-up calls. The high clarity mic captures every word possible.
Compatibility: 3-button mic + music control is designed specifically for full feature compatibility with recent generations of Apple devices. The audio and mic are likely to work with most devices that have a 3.5mm jack, including but not limited to, Android, Blackberry and Windows devices.
If you are scrambling for last minute ideas for the audiophile on your list or want to treat yourself to a little something SOL REPUBLIC really should be on that list. With the gift of any of these the ears of the world will be a little bit happier.
Giveaway
Three (3) winners will receive one (1) of the following:
Amps HD in-ear headphones
Tracks HD  on-ear headphones
Tracks HD Anthem on-ear headphones
How to Enter
Tell me what your favorite genre of music is.
Extra Entries Available
After you have completed the first entry, you are eligible for additional entries. Make sure you leave a separate comment for EACH entry. Each counts as one extra entry unless noted otherwise.
Subscribe to Daddy Digest by reader or email.
Like me on my Facebook Fan Page.
Like SOL REPUBLIC's Fan Page.
Follow Daddy Digest on Twitter AND Tweet about the giveaway. Leave the URL to the Tweet in your comment. You can tweet once a day, but remember to leave the URL to each tweet.

This giveaway will end on December 21st at 10:00 PM Central time. Winner will be chosen via a random number generator. Giveaway is open to US entries.  The winner must contact me in 24 hours to claim their prize. Good luck to everyone!
The views and opinions expressed on this blog are purely that of the blog owners. Any product claim, statistic, quote or other representation about a product or service should be verified with the manufacturer or provider.
In this episode I drop some general family news and a pretty neat announcement!
Podcast: Play in new window | Download (Duration: 24:31 — 22.4MB)