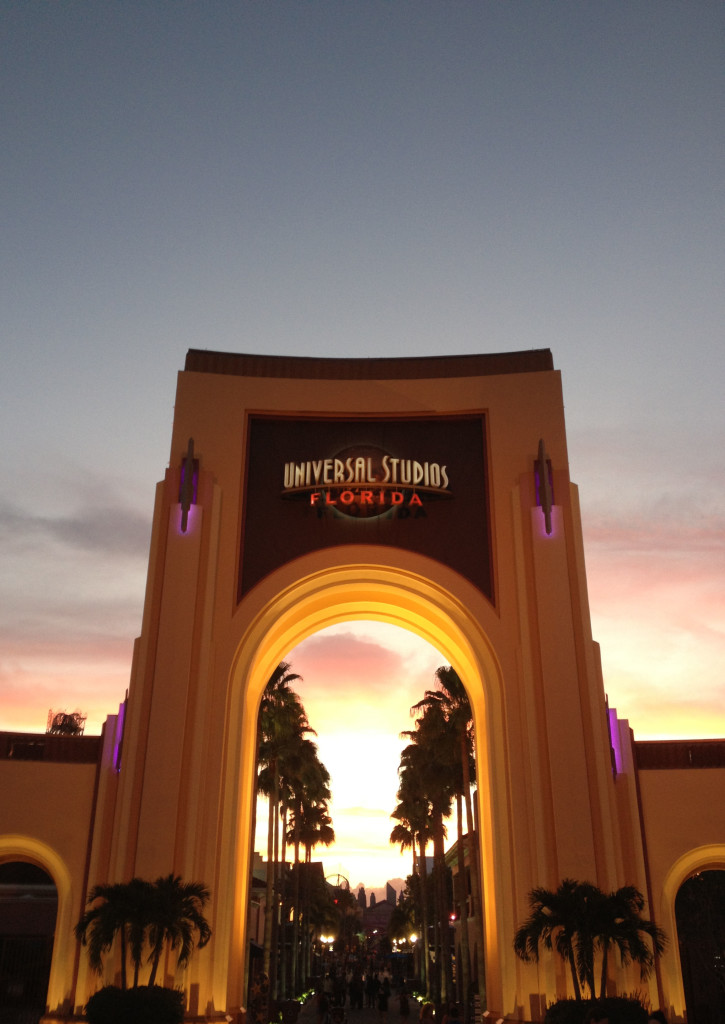 As some of you may know we took a little excursion down to the land of sporadic rain showers and an immense amount of lizards…the state of Florida. I was asked by Universal Studios to come and play for the weekend and cover some very exclusive events revolving around Despicable Me 2. I'll fill you in on the Despicable Me 2 stuffage in another post, but here in this post I wanted to tell you about everything else that we experienced. I wanted to make this list to fill you in on things that I think that are not to be missed and I just like to tell all of you what to do.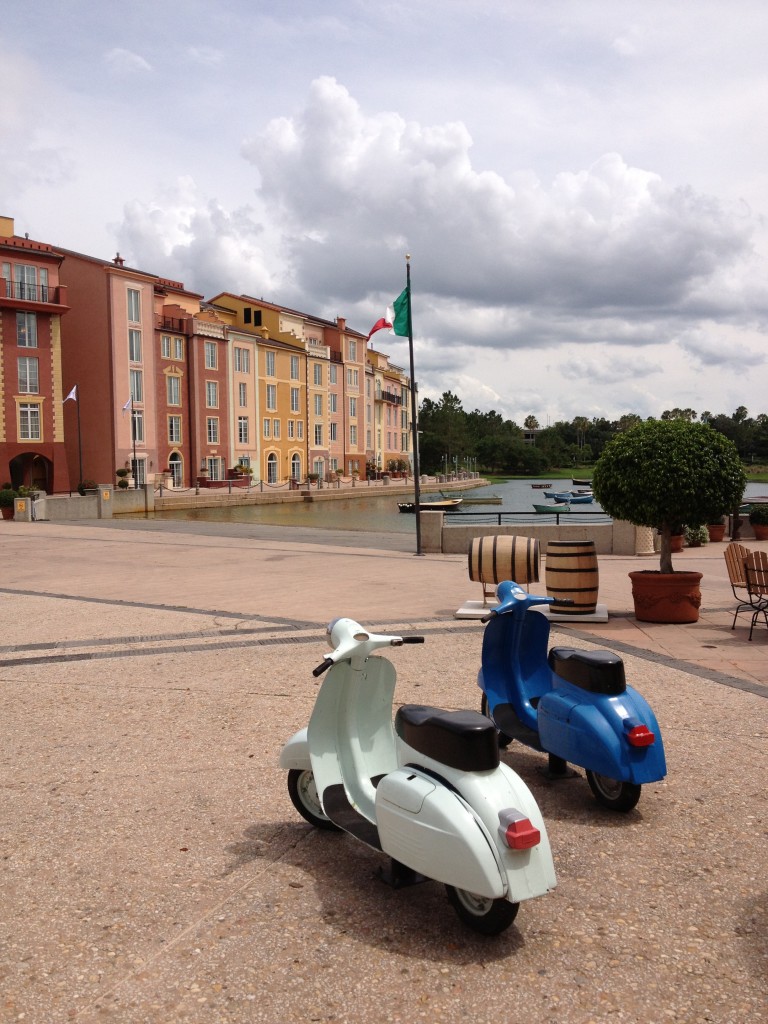 Stay at a Universal Studios Hotel

: During our time in Orlando we stayed at the Portifino Bay Resort just minutes from the parks. Not only are you just a shuttle, short walk, or river taxi ride away from the parks, but the hotels offer express passes given to every guest that enables them to skip the regular lines and get into the attractions a little bit faster. It was very beneficial to be so close to the hotel when we were in the park and torrential rain came down on us faster than you can say "E.T. phone home". We were able to walk out of the park and within five minutes we were shivering in the comfort of our own room. Not to mention the pools,

fantabulous dining options

, and stupendous staff at the Portifino that made our stay easy and memorable.

A Private Tour

: Ever wonder what is behind certain areas of parks that say "Employees Only" or "No Entrance to People Without a Costume Head?" Well, with a private tour at Universal Studios you can be lead behind all of those and even more. We had a guide that showed us the inner workings of the Spiderman ride, informed us on endless amounts of facts and trivia, and then proceeded to lead us to the front of every ride that we wanted to experience. We even rode a few a couple of times in a row…because we could! There are different times, prices, and options to check out if this is something that sounds like a winner to you.

Head of the line

? Yes please!

The Cat in the Hat Ride

: If you are a fan of Dr. Suess or just read the book The Cat in the Hat when you were younger, then you will really appreciate this ride. The ride is filled with just as many surprises as you round a corner as it does when you turn a page in the book. Perfect for feeding kids imaginations and great at scratching the nostalgic itch of adults.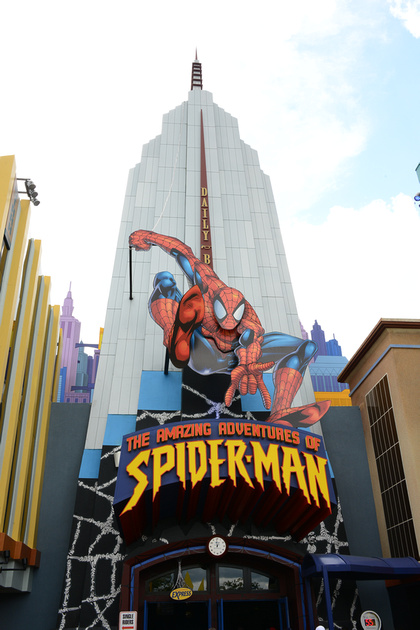 The Amazing Adventures of Spiderman Ride

: How many times does an attraction have to be deemed

"The Best

" before you finally break down and try it? I only had to be asked once and I was ready to swing into action on this ride. Yeah, sure there are newer rides and I'm sure some hardcore comic fans would nitpick characters and plot points of the ride, but none of that really matters once you get into the action. If I had to give some words to describe the ride I would have to say that it is spectacular, ultimate, superior,and just plain amazing.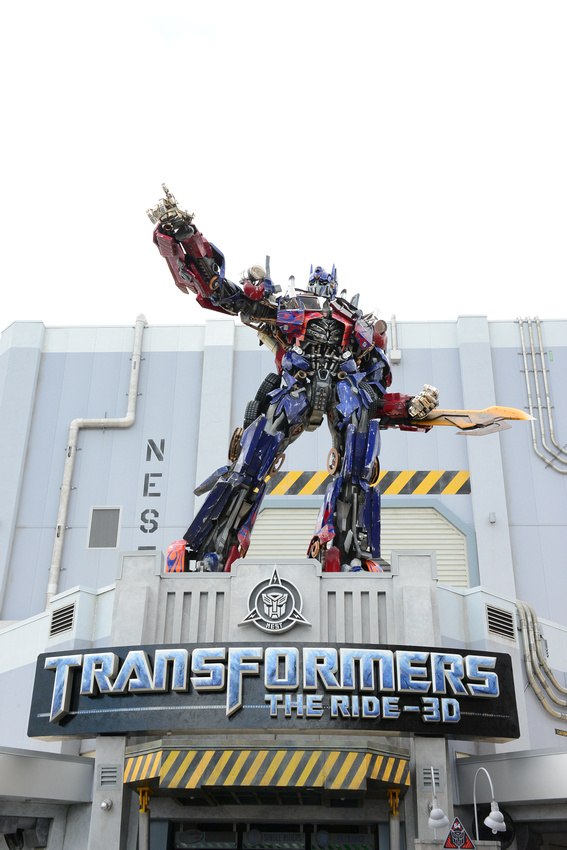 Transformers The Ride-3D

: Never has the anticipation of anything brought me closer to the point of peeing my pants than this ride. It may sound silly, I know. A grown man getting all hyped up about a ride that centers around robots from a distant planet that can change forms in an instant, that wage war upon two differing factions within their own race, threaten all humanity when their war comes to our planet, has been a very successful toy line for over 30 years, and introduced the new Camaro? Yes. This property does do that. I know women that pee by jumping just once on a trampoline and guys that tinkle when they sneeze. So there. My excitement is justified. It is not to be missed. The newest of the new and the best of the best. ROLL OUT!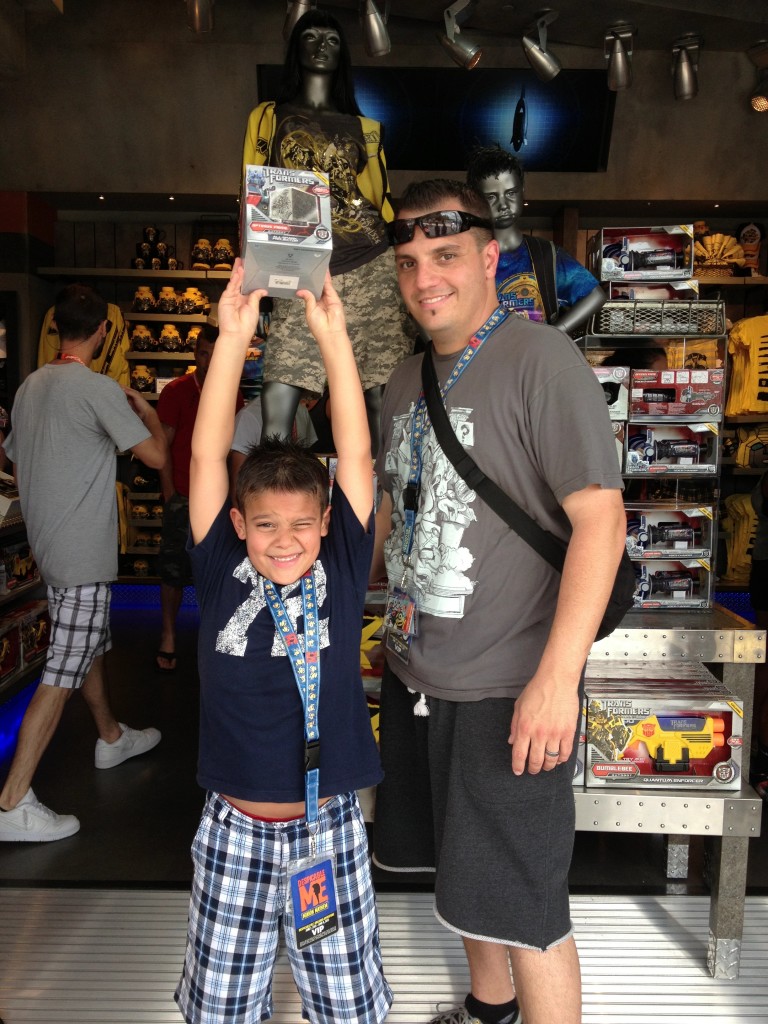 The Transformers Gift Shop

: Yeah, sure there are tons of Transformers in just about every store you go to. Shelves filled with the same old items that every other store has. But then empty again just as soon as a brand new figure comes out. What if I told you that there was a store that had every Transformers toy or memorabilia that your heart desired. Well then…the gift shop at Transformers the ride should be your destination. One of the best things is that you can find exclusive items that you can't find anywhere else except Universal Studios. From the series from the 80's known as Generation 1 to the current incarnations of the live action movie and Transformers Prime, make sure you stop in here to spend some time before you ROLL OUT of the park.
Pose for a Picture with the T-Rex

: How often do you get a chance to pose with a T-Rex that won't actually bite you in half right after you snap a photo. Yes, I know there is a Spinosaurus lurking around another path in the Jurassic Park area, but I don't like the Spinosaurus. Everyone knows that the T-Rex should have won against the Spinosaurus in Jurassic Park 3, So, let's make sure that 'ol Rexy gets the attention he deserves.

E.T. Adventure

: Our tour guide informed us that Steven Spielberg said he would never ever make a sequel to the beloved movie E.T. Like most kids who saw this movie when they were young, I often wondered what E.T.'s home planet looked like. Spielberg did however, say that if there was to ever be anything that followed up the original movie, the ride at Universal Orlando would be the exact story and visuals that he would desire. Whether you're an adult or a child, this ride would satisfy the question that we would all love to ask the little Reese's Pieces lover himself….E.T., where's home…and what's it like?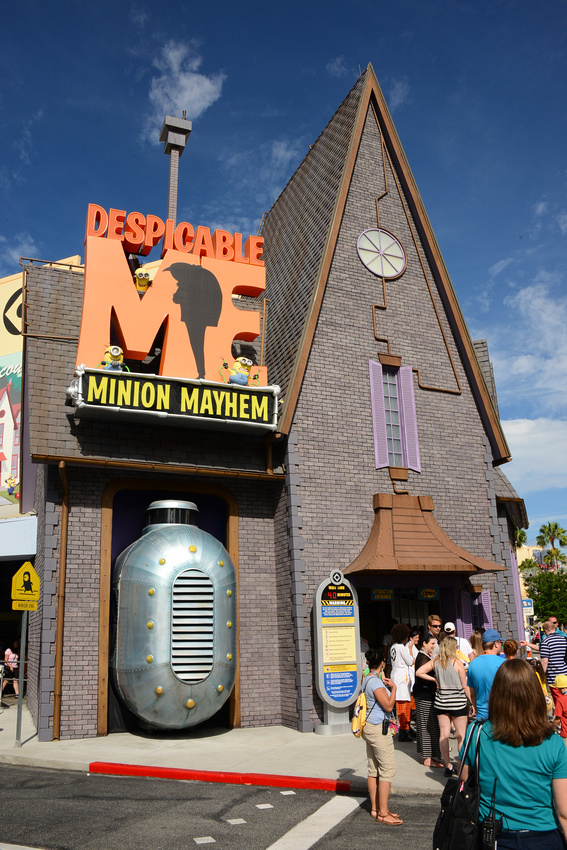 Despicable Me Minion Mayhem

:  One of the most entertaining 3D rides out there today.  You and your group are transformed into Minions and set out on an adventure throughout the lair of one of the notorious villains ever, Gru!  I knew all along that I wouldn't cut it as a Minion, but I guess you will have to find out how you got that way, how you get back to normal, and how you save the day in the process.  It is really cool to see how Gru and his family work so great together in this ride…almost like a team!

The Simpsons Ride

: A truly entertaining ride from the waiting line to the exit of the building. My kids aren't really old enough to appreciate or be allowed to watch The Simpsons, but from what they see and hear from the ride they really get a kick out of the family. My daughter hates real roller coasters, my middle boy loves them, and my youngest son is, well, too young. This ride is kinda like experiencing a 3D roller coaster with the added benefit of air conditioning.

The Harry Potter and the Forbidden Journey

: If you are a Harry Potter fan then this is not to be missed. To be able to fly around in the World of Harry Potter through a magical 3D experience is totally rad. Elements from different films all rolled into one concise adventure is what you'll find here. From dragons and spiders to Quidditch and the Womping Willow you will be blown away at how deep they dive into the franchise. Just remember: Help will always be given to those who need it at Hogwarts School of Witchcraft and Wizardry.
Ollivander's Wand Shop

: A full on performance is what you'll get at Ollivander's. As you walk into a small room stacked to the ceiling with thousands of boxes of wands you will be greeted by employee's of the wand shop and then hopefully be the one who is chosen to see what wand chooses you.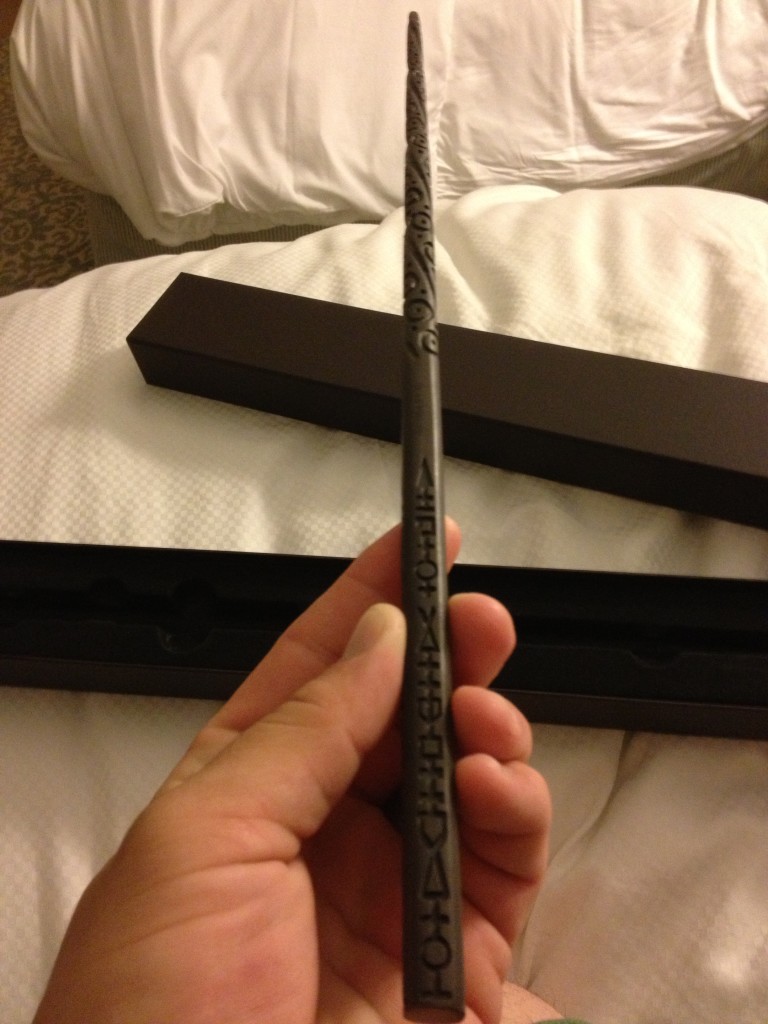 Buy a Wand at the Gift Shop

: Because you can only get by with pretending that a simple chopstick from the local Chinese buffet is a phoenix feather core with a holly exterior. Buy one…just buy one.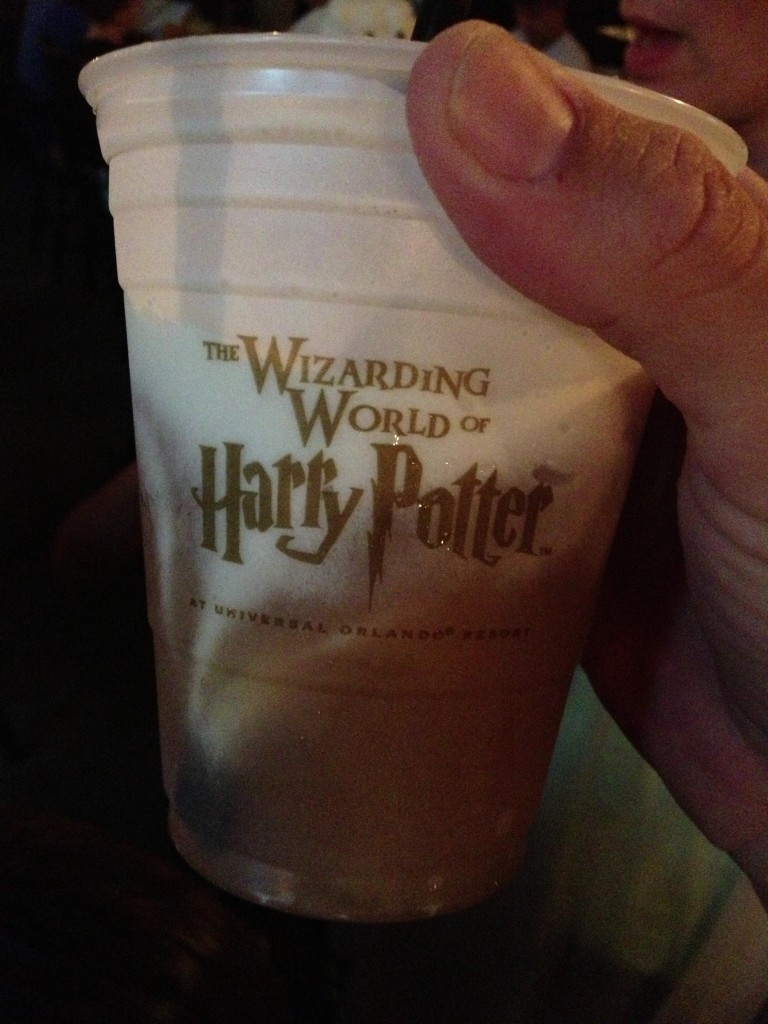 Have a Butterbeer

: I really shouldn't have to say anything else. It's Butterbeer. But, if you're still on the fence and want to know more I can give you guys a few details. Butterbeer is kinda like a cream soda on crack. Great butterscotch flavor topped off with a caramel tasting frothy foam. It is sold in a cup or collectible cup and is served chilled or frozen. Again, I say to all of you…when you go, you better get a Butterbeer.
If you can only plan one vacation or getaway for the entire year and you have to satisfy people from young to not-so-young, Universal Orlando has to be it.  My seven year old thought it was "epic-ly awesome" as he told us.  I thought it was more entertaining than ANY other theme park or family destination that I have been to anywhere in the country.  It's going to take quite a bit to top Universal Orlando as my favorite pick to take my family for our next trip.
Comments