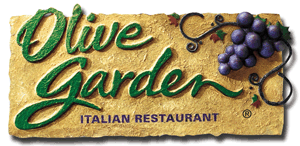 Olive Garden's Never Ending Pasta Bowl is an event like no other. To me, an Italian-American boy, this is an event that rivals the Superbowl, the World Cup, The World Series, and even Black Friday shopping. I look forward to this promotion more than most people should. The promotion, available now through October 10th, offers endless servings of pasta and 40+ pasta-sauce combinations, including two new sauces. At only $8.95 per guest, it's no wonder Olive Garden was just awarded #1 Best Value for Full Service Chains by Zagat! The promotion also comes with the restaurant's unlimited garden salad, or soup, and breadsticks.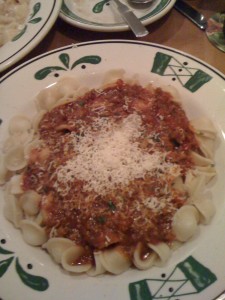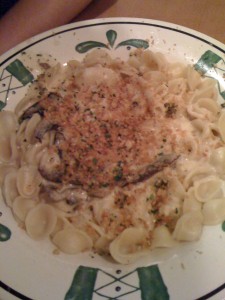 This year, Olive Garden is introducing two new sauces as part of the promotion: Chianti Three Meat Sauce (left) and the Creamy Parmesan Portobello Sauce (right). Additionally, for the first time, Olive Garden included a menu add-on of unlimited Roasted Chicken to compliment the pasta dishes.
About Olive Garden:
Olive Garden is the leading restaurant in the Italian dining segment with more than 700 restaurants, more than 85,000 employees and $3 billion in annual sales. Olive Garden is a part of the Darden family of restaurants (NYSE: DRI), the world's largest company-owned and operated full-service restaurant company. For more information, visit Olive Garden's Web site at www.olivegarden.com.
A national survey, fielded this month by Olive Garden and conducted by Kelton Research, found that traditional cuisine often wins when it comes to the American appetite. Almost three quarters (74%) of Americans who eat pasta prefer the traditional pasta sauces of meat, Alfredo or marinara. Nearly one-in-four (22%) pasta eaters consider spaghetti their favorite pasta.
To help launch this year's Never Ending Pasta Bowl promotion, Olive Garden asked Americans to share their pasta passions. Additional survey highlights included:
Ninety-seven percent of Americans are pasta eaters.
Nearly three quarters (74%) of those who put sauce on their pasta would select meat sauce, Alfredo or marinara if forced to eat one for the rest of their lives.
Close to seven in ten (68%) Americans think Italian restaurants are the perfect place to bring the family.
When it comes to food, 35 percent of Americans associate Italian cuisine with generosity and abundance, more than any other type of cuisine.
For more information, guests can visit www.NeverEndingPastaBowl.com or www.Facebook.com/OliveGarden.
Olive Garden's Photo Contest:
First, visit your local Olive Garden with friends and family to enjoy the Never Ending Pasta Bowl – now until October 10th. While you're there, take a photo of your Never Ending Pasta Bowl experience. Then, visit the "Contest" tab on Olive Garden's Facebook page (www.facebook.com/OliveGarden) to share your photo and a short story about your dining experience at Olive Garden.
All in all, my favorite was the Chianti Three Meat Sauce. You can't go wrong with seasoned beef, Italian sausage, and pepperoni in a sauce that screams flavor. I know here in America we like our cheese so you have to top it off with a ton of freshly grated cheese. I usually pass on the salad and get the Zuppa Toscana soup and tear up my breadsticks and toss a little in the soup. After writing all of this I think I know where I will be going for dinner again tonight!
Each week 12 winners will be awarded a $25 gift card and will be featured in the photo gallery.
The views and opinions expressed on this blog are purely that of the blog owners. Any product claim, statistic, quote or other representation about a product or service should be verified with the manufacturer or provider.   I have been given a product free of charge, but that does not impact my views or opinions in any freakin' way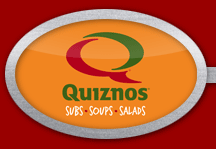 Hey peeps!  In my continued love for Quiznos as of late, I really wanted to bring you guys this really rad deal that the people at Quiznos have going on.  Now, for a limited time only, Quiznos is offering a $2.99 meal coupon for ANY small sub, chips and regular fountain drink: http://www.quiznos.com/299mealdeal. You must bring the coupon to the restaurant to enjoy the deal!  Check it!

P.S.  I am giving away a gift card to one of my lucky podcast listeners.  Tune into episode 33 to find out how to enter!
The views and opinions expressed on this blog are purely that of the blog owners. Any product claim, statistic, quote or other representation about a product or service should be verified with the manufacturer or provider. I was not compensated for this post.
Hello, hello, hello everyone!  Wow what an amazing weekend!   We had a Juicy Juice party on Saturday even though it rained and I was amazed on how cool it was and how much fun the kids had!  They colored and played with sidewalk chalk, played with bubbles, played out in the rain until it thundered and then they all came running back!  I was happy to say that we met some great parents of the children that came and really didn't mind them using my toilet…….ok…well….onward!  The whole highlight of the day didn't strike me until I was doing some clean-up of the little get-together and was washing one of the bowls that some chips were in and I moved the sponge around the edge and,….what did I find?  Someone had stuck their chewing gum on the underside of the rim  and left it there!  Ha!  I was cracking up!   It must have been one of the kids,  I guess.  My question is how did that child learn to put that there or that it was even okay to do that?  Dunno…I just…..dunno.
Sunday after church we went to a new Mexican restaurant that has been under construction for the last two years.  I had heard some people talking before about going there and I just hadn't had the desire to go yet.  But, it was lunchtime and we were already desperate to find something to eat so we agreed to go with some friends and the Pastor and his wife.  So we get in the restaurant, seated, asked for our drinks, and salsa layed in front of us.  (Here we go…ya ready?)  First off the salsa was so incredibly hot that I think it seared  my mouth with the sheer heat of a volcano.  Then the crappy bendy straw I was given was broke.  Crystal felt bad because I had stopped partaking in the execution of my taste buds with the others, so she ordered me some chile con queso.  It came out 10 minutes later and I looked at it and thought "well that looks kinda plain".  So I then proceeded to put a little regular black pepper in it just to give it some taste I thought, even though I had no idea what it tasted like yet. So I then grabbed a chip, dipped, and stuffed it into my mouth.  At that moment in time I knew that the single purpose of this queso was to extinguish the fire that was created by the salsa because this queso my friends….. was frigid!
I told Crystal while chewing "Mmrrph…you grotta trryy thris"  she complied, as the chip sailed towards her ( I had to suppress a snicker) I new she was gonna be upset too! She said "why the crap is it cold" and i said "dunno".  I asked the waitress to come over shortly after to show her my pool of  icy cheese and she apologized and then said that she would "fix it" and in my mind that means to put it in the microwave.  So she turned and headed towards the kitchen and I guess didn't believe me so she tested it herself.  The lady stuck her finger in my queso, then applied a small amount of the cheese product to her tongue………..I know.  I then asked my wife "did she just put her finger in my queso?"  Five minutes later she brought back my queso in the same bowl with the same black pepper in it…..fresh from being heated up in a microwave!  I then did not know what to with it.
After finishing up the queso she brought me…..WHAT?….WHAT?…it was fine…we blessed our food, it made it okay! It was entree time.  Needless to say, I think they only heated the outside of my plate and brought it to me.  Crazy thing was, everyone else's at the table was also cold!  Nobody even said anything until I started asking "is yours cold?"  Everyone said yes and nobody was going to say anything!  So, me being me, I called her back over (after all of the interaction me and this lady had, we were on a first name basis) and I complained again!  This really was ridiculous.  So I told them to take it off and I wasn't gonna pay for it.  The lady came about this close (..[——–]..) from getting an attitude with me but I think she was afraid i would have pelted her in the face with a bowl of salsa burning her face off in the process!
So all in all it was a pretty good weekend, I mean after we left there I got to go by Taco Bell and I got some real hot Mexican food!  Until next time everyone.
Late,
Ryan