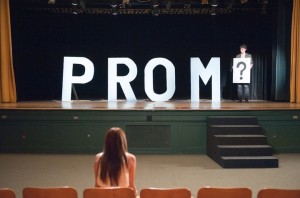 Walt Disney's Prom pulls all the right strings for a perfect teen movie. I think they do a better job then the teen movies I saw as a kid. The teen movies of my generation was on the bleeding edge of adult humor. Prom pulls far from raunchy jokes that I remember and centers more on teen angst, drama, awkwardness and fear of the future. There is no sexual undertones but a lot of romance that leads to extended kissing but nothing that feels like the audience is invading a private moment. Another flag for some parents may be a fight the character Jesse (Thomas McDonell) gets into.
I loved the humor played out in this movie. The awkward moments some of the comedic actors must endure is priceless. In one scene, Llyod (Nicholas Braun), who keeps getting turned down by every girl he asks, leaves a note on a girls locker asking her to prom. He, unfortunately, cuts out the letters from a magazine for his note and frightens the girl into thinking she's being stalked. Fail.
I think my daughter loved the romantic story lines the best. Yes, story lines. The movie follows three major love stories plus many other romantic sub plots. It is a movie about prom and prom is very romantic. I have to say she ate it up. Honestly, some of my heart strings were tugged and I got a little misty. I didn't fall apart. I kept it, manly.
It is a great film for teens and preteens. Adults in the audience will enjoy it too. Plenty of laughs and some tears (except me. I didn't cry once) and my daughter and I both liked it. Check it out.
Comments