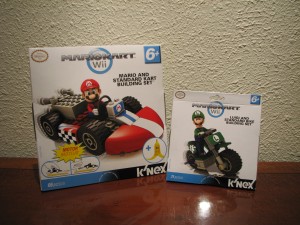 My oldest son is a Mario freak. He loves playing old and new school versions that include Mario and his "super" cast of friends. To bring the play experience even closer to home K'NEX has come out with their line of building sets from Mario Kart Wii.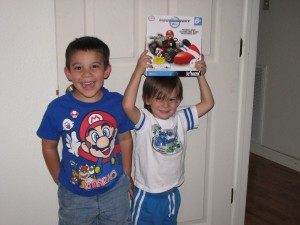 Each Mario Kart Wii set comes with a buildable figure. The Karts from the toyline come complete with a pull-back motor and K'NEX pieces to build a standard kart and an item from the Mario Kart game. The sets that are for the Mario Kart bikes contain K'NEX rods, connectors and bricks to build a Standard Bike, exactly like in the game. The package can be re-used as a ramp for even more after-building fun. Collect them all and race your friends!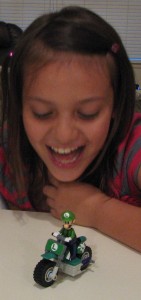 Want some free Mario figures and a chance to get a Golden Ticket?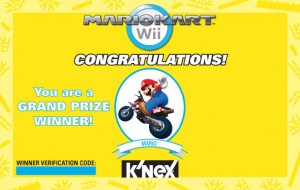 From Monday, June 13, through Friday, July 15, 2011, K'NEX Mario Kart Wii fans can register online to receive a free Mario or Luigi K'NEX figure. 300 figures will be distributed for each day of the five week promotion. Of the 10,000 figures, five lucky grand prize winners will receive a Mario figure plus a Golden Ticket that entitles them to a special prize package including: a Wii™  console (a $150+ value), the entire K'NEX Mario Kart Wii product line (18 toys featuring Mario, Luigi, Yoshi, and their favorite karts and bikes on two popular Mario Kart Wii tracks — a $632 value) and a trip to tour K'NEX headquarters in Hatfield, PA. For more information, complete rules and to enter the sweepstakes visit www.knex.com/mariogoldenticket.  No purchase necessary.
K'NEX is the only U.S. construction toy company focused on Building Worlds Kids Love™. K'NEX seeks to build young minds and encourage them to imagine, build and play with its exciting product line specially designed for kids ages 2 through 12. Creative open ended play, educational benefits, and family fun are just a snap away with K'NEX!

The views and opinions expressed on this blog are purely that of the blog owners. Any product claim, statistic, quote or other representation about a product or service should be verified with the manufacturer or provider. I have been given a product free of charge, but that does not impact my views or opinions in any freakin' way.
Comments