THREE giveways have ended.  I have some pretty sweet prizes for some lucky people and here we go!
Here are the two winners for the Quiznos giveaway.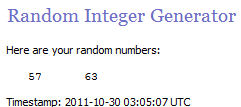 #57 Cindy D and #63 Lori Hart!
The next bunch is for the Orville Redenbacher giveaway. The 25 winners of the samples were chosen at random but I don't have a full weekend to post screenshots so you are going to have to deal with it. 🙂
The winner of the Grand Prize is….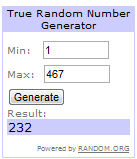 #232 Joanne Major!
Finally, the winner of the Pampers giveaway and a new iPod Touch is….
#91 Lynda E!
Comments