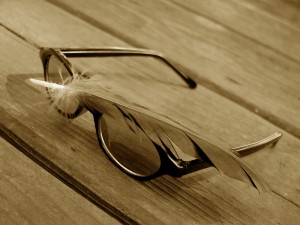 Can you see all obstacles in your way? Gone are the dark clouds that had you blind? I know it's just a song. But, what if you or one of your family members sing this song and think "…I wish!"? Many, many people go through life and not even realize that they have a vision issue or if they do…don't ever deal with it the right way. My mother-in-law for instance…52 years old and never had a proper pair of eyeglasses even though she knew she had vision issues. She just kept on like many do and kept buying those cheapo glasses from the drug or dollar stores. After all of those years we finally convinced her to go get her eyes checked.  After the exam and frame selections were done it totally changed the way she "looks" at everything now.
Little Eyes Can Have Big Problems
What about the rest of YOUR family? School is back in full swing and after school sports and activities are underway. Are you looking for the signs or even aware that our kiddos may have a vision issue? Squinting, red-eyes, headache complaints, irritability when doing close work, turning or tilting head to see better, and even uses finger to maintain place while reading? I had no idea on some of these and these are just a few!
The folks at VSP Vision Care believe that a comprehensive eye exam is one of the most important ways parents can give their child the best chance at success for the school year.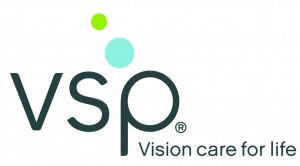 About VSP Global
VSP Global includes VSP Vision Care, the largest not-for-profit vision benefits and services company in the United States with 58 million members; Marchon Eyewear Inc., one of the world's largest manufacturers, designers and distributors of quality fashion and technologically-advanced eyewear and sunwear; Eyefinity® which offers innovative solutions and the premier management software and technology to improve overall practice management and patient experience; VSP Optics Group, industry leaders in new technologies, production processes, service and logistics.
According to VSP optometrist Ryan S. Nakamura, OD, of Natomas Optometry in Sacramento, Calif., the following are three reasons why a comprehensive eye exam should top students' and parents' school year checklists:
One in four children has an undetected vision condition
A child doesn't know what good vision is if he or she has never experienced it. Because eye health plays a major role in academic growth, it's common for vision problems to be mistaken as a learning disability. Undetected vision conditions can negatively impact learning development and contribute to frustrated students, poor grades and behavioral issues.
Comprehensive eye exams detect what school vision screenings cannot
A common misconception is that an in-school vision screening is a sufficient, comprehensive eye exam. While in-school screenings do help identify some vision problems, such as near and farsightedness, they do not test for all of the problems that a comprehensive eye exam can detect like diabetes and hypertension – both growing health concerns for children. Two of the most common vision problems a screening can miss are eye coordination and lazy eye.
Children's eyes develop rapidly
A child's eyes develop continuously until about the age of seven – making early detection essential in correcting potentially permanent vision issues. Many eyecare professionals recommend a comprehensive eye examination at six months of age, before a child enters preschool, and again before beginning kindergarten, then every year following that. Unfortunately, 76 percent of children haven't had a comprehensive eye exam by age five.
All of these things really opened my eyes up on what I was doing and not doing for my family and our quest for good vision. I hope that you guys take the time and stop on by over at VSP's site and see just how much they can help you and your family get valuable info about the vision of your family as well as money saving deals. They are even giving Daddy Digest readers the chance for one of you to win a pair of designer sunglasses valued up to $200!  So here's the giveaway
Giveaway
One (1) winner will receive:
A pair of  designer sunglasses valued up to $200!  See the selection here!
How to Enter
Visit SeeMuchMore.com and tell me which is MOST important under "Reasons to Enroll" at the top of the page when it comes to you and your family.
Extra Entries Available
After you have completed the first entry, you are eligible for additional entries. Make sure you leave a separate comment for EACH entry. Each counts as one extra entry unless noted otherwise.
Tell me how much you could save from the VSP Savings Calculator
Subscribe to Daddy Digest by reader or email.
Like me on my Facebook Fan Page.
Follow Daddy Digest on Twitter AND Tweet about the giveaway. Leave the URL to the Tweet in your comment. You can tweet once a day, but remember to leave the URL to each tweet.

This giveaway will end on November 12th at 10:00 PM Central time. Winner will be chosen via a random number generator. Giveaway is open to US entries.  The winner must contact me in 24 hours to claim their prize. Good luck to everyone!
The views and opinions expressed on this blog are purely that of the blog owners. Any product claim, statistic, quote or other representation about a product or service should be verified with the manufacturer or provider.
Comments