This is a partnered post. As always, all thoughts and opinions are my own.
Mother's Day. Growing up it was a day that I presented my mom with masterpieces of art that consisted of construction paper with dried beans or pasta glued to it. When I got older it was often a card or coffee mug. I still honor my mom on Mother's Day, but my attention has also shifted to honor the mother of my three children. Giving her a paper with pasta glued to it just isn't gonna cut it. So, here are a few ways you can honor the mother of your children this Mother's Day in ways that will make her feel very appreciated.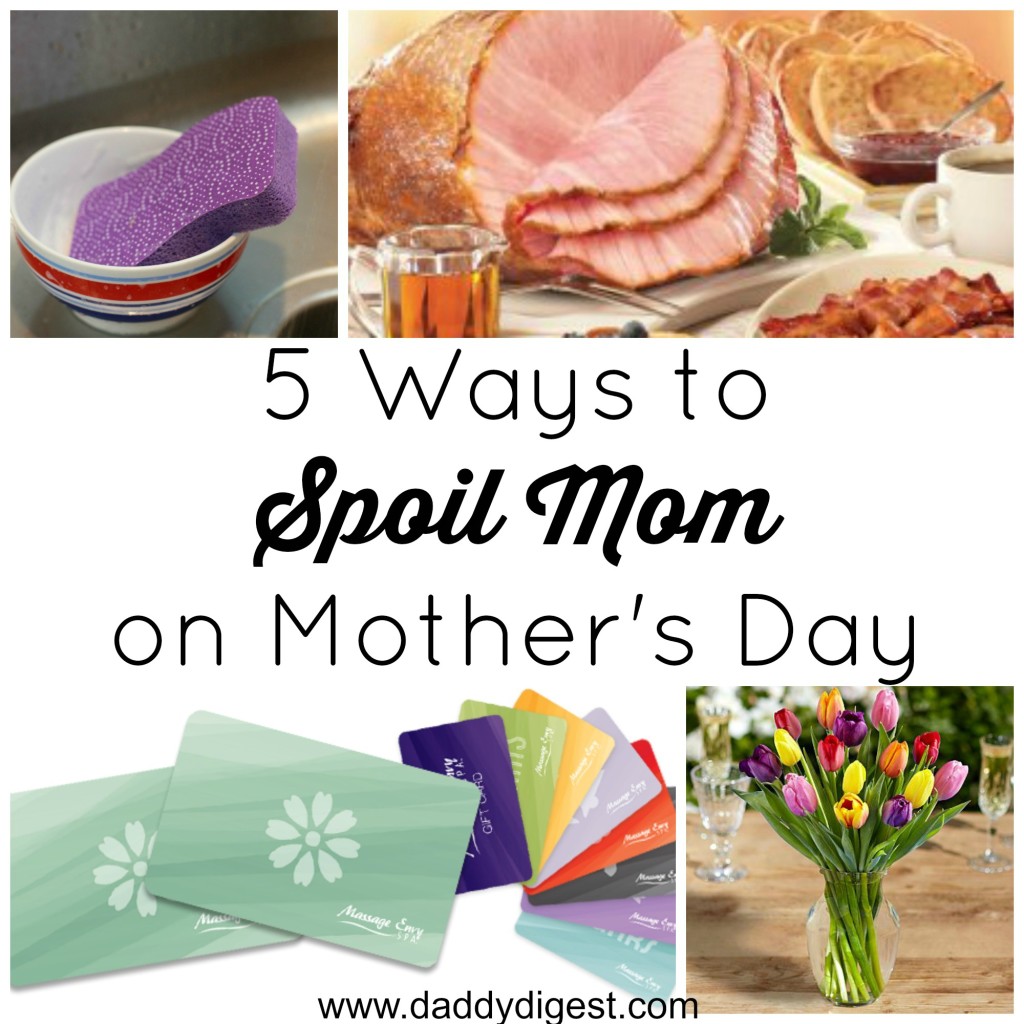 5 Ways to Spoil Mom on Mother's Day
Flowers: The flower thing…I don't get. But, it's not about me nor do I need to understand it. Women get it though and from what I know most all moms are women. So, what does this mean? It means moms dig flowers. So pony up some pennies for some petals and get mom some flowers this mother's day and make her day.
Spa Day: What better place for mom to go than somewhere that revolves around making her feel and look even more beautiful than she already is. Buy mom a big gift card and set her free so that she can get whatever she wants. Manicure and pedicure? Done. Relaxing massage? Done. Weird body scrub? Done. Funky face mask? Done. They will take care of mom. Especially her uni-brow.
Cook: Most of us know that the kitchen is usually mom's domain, like dad's is the garage…or that second bathroom. Day in and day out mom is serving up breakfasts, pumping out lunches, and delivering dinners to her family. It takes a bunch of effort to do it and she deserves a day off. With the help of HoneyBaked, take her place for the day. Let HoneyBaked do most of the work, and you can take all of the credit.  Cook it up, serve it up and most importantly, clean it up!
Clean: Now unless you have really deep pockets you probably can't really get her a new house that is spic and span. What I mean is you need to try to take the house she is already living in and get that thing all gussied up! Now, you can seek out a company that comes in and takes care of everything from washing and changing the sheets to washing the floors but, what if mom came home and knew that YOU did all that work yourself? What if she knew that you used your own elbow grease to clean those baseboards and scrub that toilet? Either way I bet she'd dig it.
Rest: Get all those loud kids out of the house, take them somewhere dad has to wrangle them for a while, and let mom do whatever she wants to do in peace and quiet. If she wants to sit around and eat sushi while watching reruns of Saved by the Bell in mommy pants…then she can. Doesn't matter what she does or doesn't do, she can do it without having to hear "mommy!" Silence is golden.
A little bit of spoiling doesn't have to cost a lot of money. Show mom how much she means to you with one of these Mother's Day gift ideas.
Comments