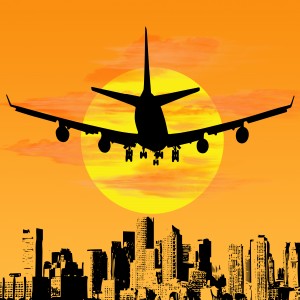 Ah, travel. Summertime is one of the most busiest times of the year for travel. Kids are out of school, vacations get underway, and gas prices rise slightly. With my job I have to schedule the next years vacation the previous year in November. Are you confused? Well let me break it down for you.
Every November I choose my weeks of vacation for the following year. This leads to a very stressful couple of weeks before trying to figure out what weeks I have (want) to take. Another bad thing is that it is all done by seniority. So, the guy thats been there 32 years will most definitely get his preferred weeks while I would have to wait until my choosing time rolls around. I'm not complaining though I usually do get the weeks that I want. It could be worse though, I could end up not getting any vacations at all. But it does make it very stressful, especially if there is a week that I really really want and someone or several someone's have already chosen that week. Having my vacations done like this has pretty much always worked out for the almost decade that I've been with this company.
I just got back from a weekend trip to New York City with my three kids and my in-laws. I knew that I was going to experience the city in August with my wife Crystal but I had an opportunity to take a quick trip a little earlier in the calendar.  I really would love to again one day even after my upcoming August trip to be able to experience the city during Christmas time or any turkey holidays (because most of the holidays revolve around the commencement of us gorging on these birds around the last third of the year) so that I can see this magical city in…from what I hear…one of it's most magical and alluring times.
Having to plan such a big getaway in such a small amount of time…..my nerves got a bit rattled. Questions arose. What do I do if I forgot stuff? What happens if we lose our luggage? I relaxed though and felt better when my kids reassured me that we could just go to the store and buy everything all over again. They have all of the answers.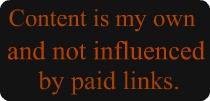 I have so much to do on my site to get things rocking again. I have so much on my plate these days that I just sit here and ask myself "is it worth it?" I used to have the time to do posts and create content but these days it is really a challenge. No. Really. There are days where I want to completely want to delete my entire site that way I will never have to think of it again.
Don't get me wrong I love all you guys and I value the time that you have spent engaging with everything on my site. It just doesn't get the love that it deserves from me. I am serious as all get out. It makes me so frustrated to know that I have this great outlet for my creativity and my voice and I don't take advantage of it.
I am also tired of people/companies/brands emailing wanting me to post something, spread the news, or pimp their product. Let me just say this…no way am I going to do ANYTHING for free. My time is my time and that time spent away from my family is worth something. I don't get up everyday at 2:45 in the morning and then work for 12 hours at my day job for free! So these companies that want me to do work for them for free need to realize that if I get any spare time to work on my site it is going to be something awesome and amazing and it will either be either some heartfelt encounters in my daily life, stories of my kids, or products that will knock your socks off.
Sorry for the ranting people but I just had to be real and get this junk off of my chest because it is eating me up inside. Hopefully I will continue on with the site and if not well then I SUCK! Joking. See you soon. 😉
Have fun,
Ryan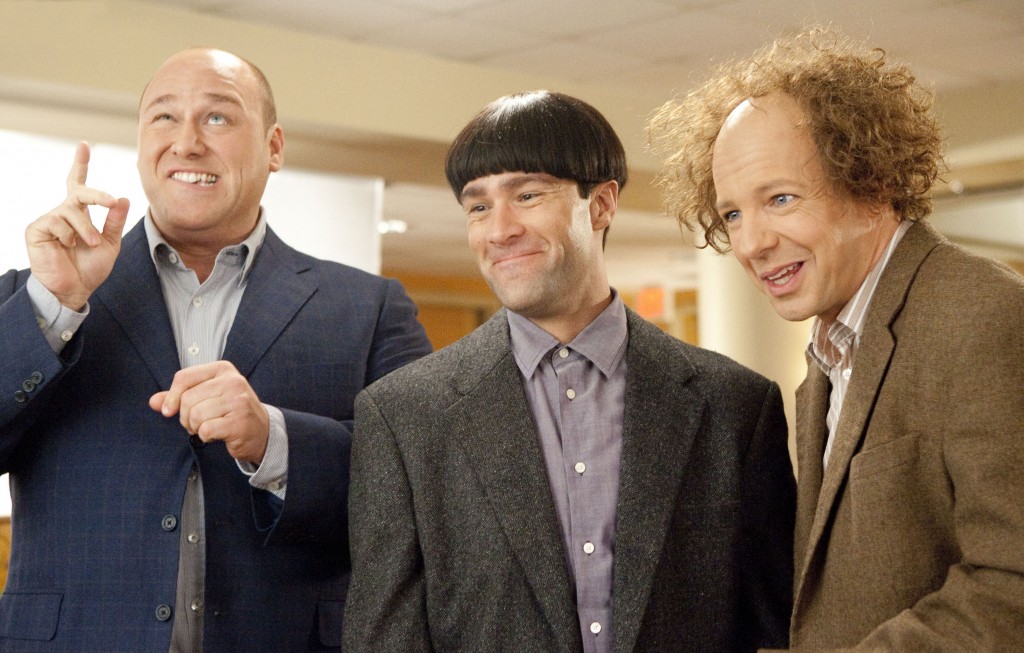 I am very fond of Will Sasso. Some may be asking "who the crackle is Will Sasso?" He is a comedian who spent many years on MAD TV and then moved on to many other sitcoms like Less Than Perfect on ABC. He is extremely comical and talented and he will be lending his talent to the new you may have heard of called The Three Stooges.
This spring, "3" + "Stooges" = the spring's funniest family movie event: THE THREE STOOGES. Left on a nun's doorstep, Larry, Curly and Moe grow up finger-poking, nyuk-nyuking and woo-woo-wooing their way to uncharted levels of knuckleheaded misadventure.  Out to save their childhood home, only The Three Stooges could stumble their way onto fame, fortune – and starring roles in a phenomenally successful TV reality show.
Rated PG
Visit the official website to play games and Get Stooged!
Follow on Twitter  #ThreeStooges
About the filmmakers and cast
The film stars Sean Hayes, Will Sasso, Chris Diamantopoulos, Jane Lynch, Jennifer Hudson, Sofia Vergara, Craig Bierko, Stephen Collins, and Larry David.
Directed by Peter Farrelly and Bobby Farrelly
Stay tuned for a giveaway coming next week for some Stooge goodies!

The views and opinions expressed on this blog are purely that of the blog owners. Any product claim, statistic, quote or other representation about a product or service should be verified with the manufacturer or provider. I have been given a product free of charge, but that does not impact my views or opinions in any freakin' way.

I have been streaming a great bit of the Stargate TV series lately. The franchise has easily become one of my favorite of all time. I have watched all ten seasons of SG-1, 3 of the 5 season of Atlantis, and seen all of Stargate Universe. Now I found out that Twentieth Century Fox Home Entertainment has just made it easier for people to follow in my footsteps.
In the grand tradition of Black Friday FoxConnect.com has slashed a ton of prices on some of their best titles. These indlude DVD, Blu-ray, complete seasons, and complete series. You can find select titles up to 70% off on the FoxConnect.com in their Black Friday section. HOLY COW I am going to go broke!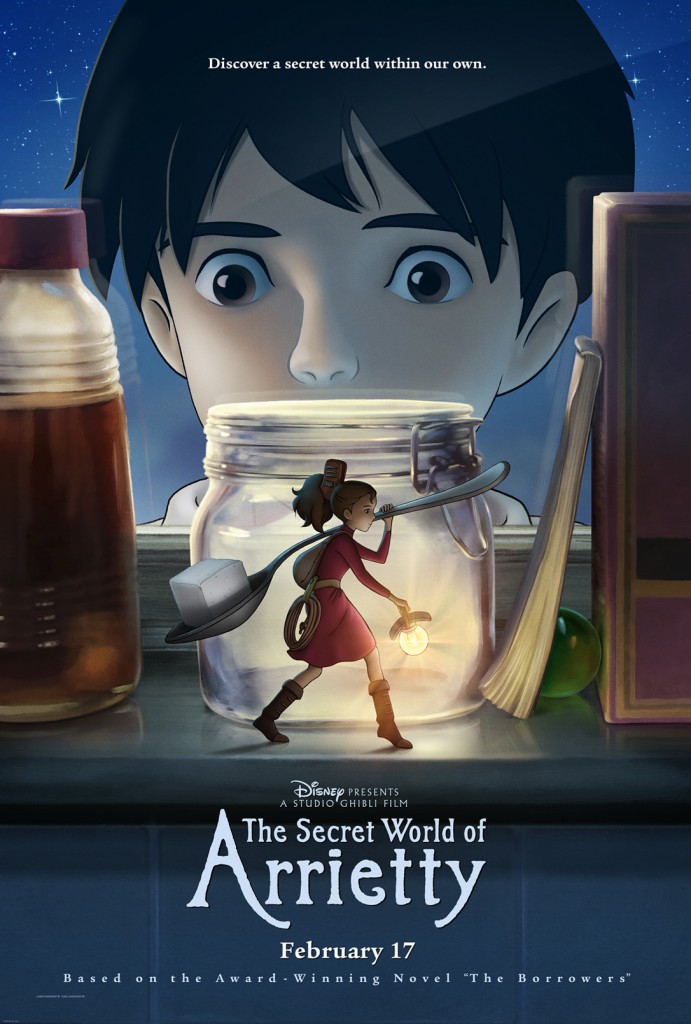 While in L.A. a few weeks ago I got to see a special screening of a movie called The Secret World of Arrietty. Crystal and I got to see it in a small screening room inside of the Dick Clark Productions studio. I love all animated genres and have had a great time with animes in the past. The Secret World of Arrietty is an animated adventure based on Mary Norton's acclaimed children's book series "The Borrowers. This is an animated feature that really pushed it when it came to Crystal because it really walks the line of "anime looking".
After seeing the movie she came around and thought it was something really fresh and took you where you didn't think it would take you. Traditional Japanese animation, or anime, doesn't typically take the traditional "western" storyline approach like our movies do here in America. That's what kept her entralled.
Arrietty (voice of Bridgit Mendler), a tiny, but tenacious 14-year-old, lives with her parents (voices of Will Arnett and Amy Poehler) in the recesses of a suburban garden home, unbeknownst to the homeowner and her housekeeper (voice of Carol Burnett). Like all little people, Arrietty (AIR-ee-ett-ee) remains hidden from view, except during occasional covert ventures beyond the floorboards to "borrow" scrap supplies like sugar cubes from her human hosts. But when 12-year-old Shawn (voice of David Henrie), a human boy who comes to stay in the home, discovers his mysterious housemate one evening, a secret friendship blossoms. If discovered, their relationship could drive Arrietty's family from the home and straight into danger.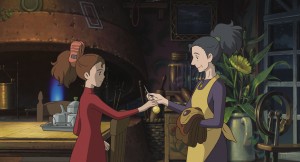 I know that the kids are going to love this movie especially Taylor who will just fall in love with Arrietty and how strong she is despite her size. Hope you all get a chance to check it out as it hits theaters on February 17th, 2012!

Well after four months of being a Windows Mobile user on a HTC Surround I had to say no more. I said goodbye to my Apple iPhone at the end of August due to how slow the phone had gotten. It was several years old and I do not think that the plain old iPhone 3G could handle the software load and updates that it had taken on over the years.
I really did love the speed of the HTC phone and the handset boasted some very powerful specs. It was the availability of apps and features that ultimately did it in for me. When I first got the phone custom ringtones weren't even an option. How does this happen in the age of phones today? My Nokia 3130 from 1999 at least did that. After four months of the Windows Mobile phone coming up short it was time to return to an IOS device.
The main thing that I was wanting to talk about is not the phones themselves but the Apple store itself. What is wrong with this place? As soon as you walk in the place you feel the cold distant feeling that overcomes you as you enter the sparse environment. Underneath the vast array of visible and hidden security cameras the employees are sure to be laughing at the customers walking in with confusion in tow.
I guess it just comes down to me feeling weird when I am in the Apple store. I have to check in as soon as I get there (like being seated at a table in a restaurant) and then wait for another person to actually talk to me. Also, the alarm systems hooked up to the devices are so touchy that I cringe with fear when near and refuse to touch them at all.
When we entered the store there was a special roped off section with some bearded young dude handing out white cards that had different iPhone and different specs on each card. You collected the card of the model you wanted and then proceeded to the roped off section to claim your electronic fruit. It was just weird and made me feel uncomfortable with the whole experience.
I did walk away with a sweet new iPhone 4S though so I guess it was worth all of the trouble and tasks you have to go through to get one. Kind of like letting your kids play outside and them getting dirty. Even if you have to clean them all up it is worth trouble if the reward of them going to sleep a little early is there.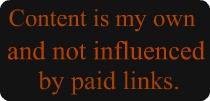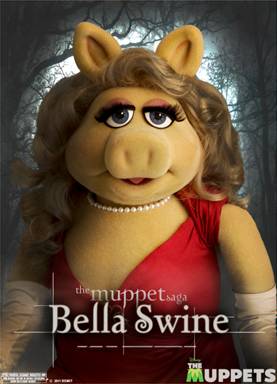 I think of my self as a fairly good parent. I do my best to try and share many things with my kids that I think that they would enjoy. While showing the trailer for the new Muppets movie to my kids I realized that they had never seen any Muppets movie before. How bad of dad does that make me if all that they have seen of Kermit the Frog was an occasional cameo on old Sesame Streets?
I am desperately scrambling to catch them up before the November 23rd release of the new movie. The movie were all on Netflix streaming but now they have seemed to disappear. I did notice that at some stores they sell a multi movie pack that have three movies on one disc. So, in anticipation of the movie I hope to catch us all up before I deemed an utter failure.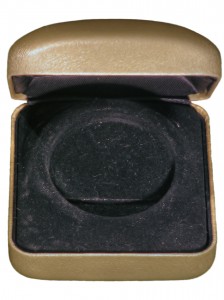 For the longest time I thought I had a problem.  Not a drinking problem or a gambling problem, but a problem losing something very important over and over.  My wedding ring has had a history of not wanting to stick around much.  I have currently been the owner of three wedding bands and it's not because I have walked down the aisle three times.
Right before Crystal and I got married over nine years ago I had a difficult task of figuring out what type of ring I wanted.  I knew that I did not want a plain old yellow gold band.  I really checked out a good bit of men's platinum, men's white gold, and men's tungsten rings.  I knew that platinum would be silly for me to get because it would have been a bit out of my price range (I had already spent enough on her platinum set).  I purchased an amazing wedding ring that was white gold and had a few diamond baguettes in it.
Needless to say, five years later I stuck my wedding band in my back pocket one afternoon before painting my daughters room purple (as to not get paint on it) and realized that the pocket had a hole in it hours later.
A year after that I picked up another $50 band at a department store and left it in a bathroom somewhere while washing and drying my hands.  I just HAD to make sure that there were no germs hiding under that ring!
The latest one was  just some super cheap band that I picked up at some store in my daily travels.  I think that the kids actually picked it up and then it disappeared into the void.  I'm sure I will find it on an action figure one day as the boys probably used it as a royal crown for someone.
I have made a promise to myself that I will go at this one more time and I vow to not lose this one.  I have been going over some options and found some really great rings that are made of tungsten.  Men's Tungsten Online has a really sweet selection of rings.  I just wish that they would have an accidental idiotic husband loss insurance.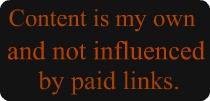 I quit my iPhone about two months ago and I have been doing really well. I don't miss it much since I have moved on to my HTC. I got an HTC Surround from BlogHer in August and I opened and set it up as soon as I could. It runs Windows Mobile 7 and when I first got it going I thought it was rad. Super fast, streamlined, and elegant the OS delivers a very powerful phone. It has a great camera in it but I really missed having a photo editor like Instagram to instantly change the photos that I took. I have found something that does the exact same thing as Instagram and also shares through all of my social networks like I need it too. It also has some amazing editing tools built in to it that can crop and adjust to cut unwanted or ugly people in the background of your photos. It's no Adobe or Paint Shop but it is great for a mobile program.
Crystal also got the same phone that I did and she refused to hook hers up until about two months later when finally she could not take the crawling speed of her old iPhone. The reason she waited so long to switch over was a simple reason…Windows Mobile 7 did not support custom ringtones. I know right?!?! A cell phone that does not integrate custom ringtones in this day and age? I liked the phone well enough that it did matter to me that it did not have that function.
Windows has since released a brand new update for our phones and I updated mine this past week. The update added over 500 new features. Crystal was excited that they finally announced custom ringtones and was now really liking the phone. Like I said though, I updated mine, she did not get the update notification. Windows is slowly rolling out the update to select customers in select markets and I happened to be one and she was not.
She got excited though when news broke about the new iPhone coming in two weeks. She said she was excited that she got to dump the Windows phone in favor of the new iPhone 5. I explained to her that it was not the iPhone 5 but just a hopped up iPhone 4 with a better camera. She was then mad yet again and went back to liking her Windows phone…for now!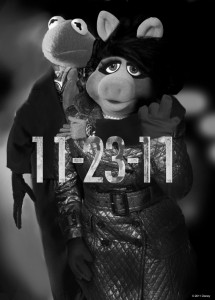 It's been a long while since there has been a Muppet movie hit our ocular receptacles. The Muppets will arrive in the theaters everywhere on November 23rd and this will be the first Muppet theatrical film since Muppets from Space from 1999. Head on on over to The Muppets Facebook Page and check out the new spoof trailer of their new movie after "Liking" them. I mean, how could you not like them?