This year I decided we are going to celebrate Groundhog Day. There is no other day that is devoted entirely to rodents. So, why not take advantage of Groundhog Day to pay homage to ALL rodents of the world. I can see it all coming into play. A huge parade right in the heart of New York City, a new snack mix by Chex that features every known nut in the world, and a week long feature on The Discovery Channel called "Rodent Week"!
Ok, maybe some of that is a little premature. But, we can still have fun and honor our furry little friends in so many other ways. On February 2nd, the iconic rodent, Punxsutawney Phil, comes out of hiding and tells the world if there will be six more weeks of winter. This day can be filled with many other activities that revolve around rodents. After watching Phil look for his shadow, families can tune in to see the world's most famous rodent, Mickey Mouse, on the Disney Channel, watch the movie Groundhog Day with Bill Murray, check out Disney's The Great Mouse Detective or Pixar's Rattatoullie. Don't let the day go by without eating some sort of nuts, cheese, or anything else that rodents eat.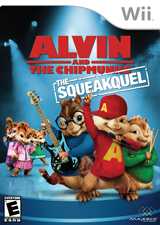 One way we are going to give some love to our four-legged friends is by playing Alvin & The Chipmunks: The Squeakquel video game. We got it for the Wii and it is sort of a cross between a rhythm game and puzzle game. The kids really liked it. Even though it is a little advanced for my 3 year old boy, my 6 year old daughter loved it! Once she got the hang of it though, my son went right beside her and jammed and danced his little rear off!
Furry pop sensations Alvin and the Chipmunks are on a spectacular worldwide tour with their girl group rivals, The Chipettes. Watch the 'Munks bring their mega star power to the show and make the crowds roar! Test your rhythm on stage with these adorable dancing trios as they sing their hits and swing their hips to prove they're the greatest musical act in the world!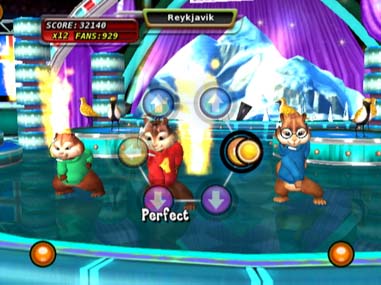 Features
• Enjoy playing as your favorite loveable, but mischievous, singing groups from the cartoon series and movies in a unique storyline
• Freedom to switch between unlocked locations with the associated music tracks which feature either The Chipmunks (Alvin, Simon, Theodore) or The Chipettes (Brittany, Jeannette, Eleanor), or a duet by both the bands, each with their own distinct personalities.
• Prove you have rhythm and timing in the main game and in 3 micro-games utilizing the Wii Remote and Nunchuk
• Features the Grammy Award and American Music Award winning songs from the Alvin and the Chipmunks library, each song's difficulty based on such things as tempo and complexity
• Jet across the world and rock the house in 1 of 25 concert locations
• 2 global modes of difficulty, Normal and Expert, are available for replay and can be changed anytime during your game
• Multiplayer Party mode lets you play as your favorite Chipmunk or Chipette and compete locally with up to 3 friends
• Play your favorite unlocked songs while watching the music videos in Jukebox Mode
• Earn attendance records by filling stadiums with thousands of adoring fans
Make sure to enjoy your celebration of Grounhog Day and let me know what you did to honor our little fur-balls of fun!
-Ryan
The views and opinions expressed on this blog are purely that of the blog owners. Any product claim, statistic, quote or other representation about a product or service should be verified with the manufacturer or provider. I have been given a product free of charge, but that does not impact my views or opinions.
Comments