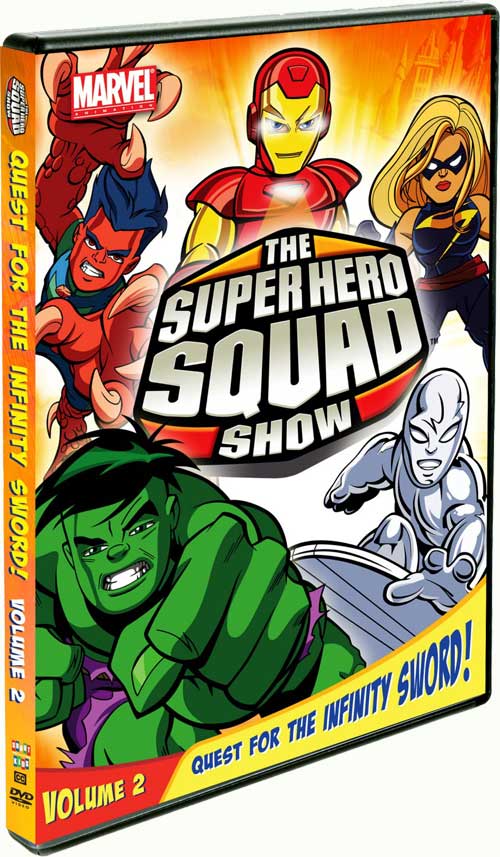 What holiday season would not be complete without super heroes? I would rather not think about it. Since the holiday season is approaching, I feel that it is only right to mention that The Super Hero Squad Show Volume 2 would be a great addition to your child's collection. The way these characters interact with each other in a way that promotes teamwork, trust, and standing for what is right is always a great way to arouse these traits in our children.
Watch as Iron Man, Wolverine, Hulk, Silver Surfer, Thor, Falcon and their friends faithfully – and hysterically – protect Super Hero City from the wild, weird and even wacky villainy of VillainVille's most infamous baddies, led by the sinister Dr. Doom! The Super Hero Squad Show: Quest For The Infinity Sword! Volume 2 DVD features the second six episodes from Season One, plus all-new bonus features, including an interview with Tom Kenny (Iron Man, Captain America and MODOK), hero profiles, trailers and more.
Boasting a stellar ensemble of well-known celebrity voice talent, The Super Hero Squad Show animated series features super-stylized, action-packed versions of Marvel's popular characters (including Iron Man, Thor, Captain America, Hulk, Silver Surfer and Wolverine) with a comedic twist. Marvel has attracted top voice talent to play the roles of Marvel's iconic heroes and villains. Not to mention, Volume 2 of The Super Hero Squad Show also boasts the voice talent of Kevin Michael Richardson (Family Guy), Greg Grunberg (Heroes), Wayne Knight (Seinfeld), Ray Stevenson (Punisher: War Zone) and Lena Headey (Terminator: The Sarah Connor Chronicles).
The Super Hero Squad Show: Quest For The Infinity Sword! Volume 2 DVD contains six exciting episodes including:
From The Atom … It Rises!
Night In The Sanctorum!
This Forest Green!
O, Captain, My Captain!
If This Be My Thanos!
Deadly Is Black Widow's Bite!
BONUS FEATURES:
An interview with Tom Kenny
Hero profiles
Concept Art Gallery
Trailers
Ryan's Rating: 8 out of 10!!
Pros:   Kids love it, very family friendly, and extremely iconic characters.
Cons:  Still this dang theme song will get so stuck in your head!
The views and opinions expressed on this blog are purely that of the blog owners. Any product claim, statistic, quote or other representation about a product or service should be verified with the manufacturer or provider. I have been given a product free of charge, but that does not impact my views or opinions.
Comments