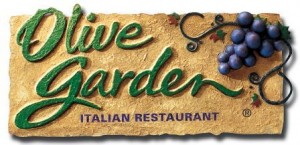 Anyone that really knows me knows that I really love to eat. I have changed my eating habits a great deal over the last year to get in better shape and to improve my way of life. I do however still have the occasions to where I eat whatever I want and how much I want. What a coincidence that Olive Garden has their Never Ending Pasta Bowl going on now until October 9 and it's only $8.95!
I took a little trip on over to my local Olive Garden with my wife attached to my arm and a growling in my belly. We sat down and immediately wanted to get our order on. We took a pass on the wine and got our usual Diet Cokes and then sat there in front of the menu and pondered on what we were going to scarf down. It took me about 1.7 seconds to figure out what pasta and sauce combination I wanted to start out with first. I ordered the Never Ending Pasta Bowl with my selection being the Orecchiette with Five Cheese Marinara. I always get the Zuppa Toscana soup instead of the salad and managed to only eat one bowl of soup in anticipation of the pasta goodness coming my way. Crystal set her sights on some seafood pasta dish and had the same soup.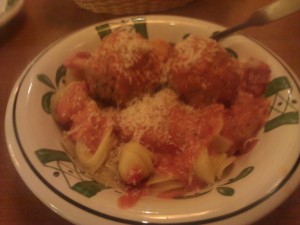 You can also add unlimited servings of either meatballs, Italian sausage, or grilled chicken breast to any of your pasta dishes for an additional $2.95 and I added the meatballs to my first bowl.  The second bowl that I created was the Orecchiette with the new Pizzaiola Meat Sauce that is a pizza-inspired red sauce with Italian meats (pan seared beef, Italian sausage,and pepperoni!), mozzarella and fontina cheese.   I topped it off once again with magnificent meatballs.  On my third bowl I knew that I was already down for the count and asked just for a bowl of meatballs swimming in the Five Cheese Marinara sauce.
Never Ending Pasta Details.
Enjoy unlimited servings of pasta with your choice of unlimited soup or salad and their signature breadsticks
Choose from 42 pasta-sauce combinations including two new sauces, Pizzaiola Meat Sauce and Roasted Mushroom Parmesan with Sun-Dried Tomatoes
Their annual much-anticipated offer kicked off Monday, August 15 and runs through October 9
Build your pasta and sauce combination at www.NeverEndingPastaBowl.com.
All-in-all we had an exceptional dinner together just my wife and I.  Before we left though I did have to ask our wonderful waiter, Ryan, in his experience what is the most popular combination of all time.  His answer surprised me when he said "regular spaghetti and meat sauce".  WOW!
Giveaway
One (1) winner will receive:
A $25 Olive Garden Gift Card.
How to Enter
Tell me whether you prefer soup or salad!
Extra Entries Available
After you have completed the first entry, you are eligible for additional entries. Make sure you leave a separate comment for EACH entry. Each counts as one extra entry unless noted otherwise.
Subscribe to Daddy Digest by reader or email.
Like me on my Facebook Fan Page.
Follow Daddy Digest on Twitter AND Tweet about the giveaway. Leave the URL to the Tweet in your comment. You can tweet once a day, but remember to leave the URL to each tweet.

This giveaway will end on September 29th at 10:00 PM Central time. Winner will be chosen via a random number generator. Giveaway is open to US entries. The winner must contact me in 24 hours to claim their prize. Good luck to everyone!
The views and opinions expressed on this blog are purely that of the blog owners. Any product claim, statistic, quote or other representation about a product or service should be verified with the manufacturer or provider. I have been given a product free of charge, but that does not impact my views or opinions in any freakin' way.
Comments