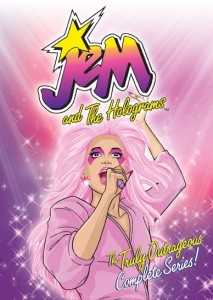 Growing up I watched my fair share of cartoons. I loved Transformers, Masters of the Universe, GI Joe, Gimmie a Break….okay that last one I really liked in the 80's but it was not a cartoon. Bringing in some of the love that I had for my childhood shows to my daughter has not been that successful. There was one show that I did watch in the afternoons that wasn't so action oriented. It wasn't a show so worried about saving the world as it was worried about finding the best outfit to wear during the next big music performance. That show was Jem and the Holograms.
After showing Jem to her on The HUB my daughter could not get enough.  But, don't take my word for it…I will let her fill you in on the series.
In 1985 the "truly outrageous" TV show JEM And The Holograms premiered to the delight of young girls and boys. This new animated series focused on the dual life of beautiful Jerrica Benton, co-owner of Starlight Music, and her pop star alter-ego, Jem, lead singer for the all-girl band JEM And The Holograms.
With its unique story line combination of drama, action, romance and music, JEM and The Holograms was a smash hit and became an icon for a decade. Its message of glamour, glitter, fashion and fame helped define a generation!
Some of my favorite peeps over at Shoutfactory! you can relive the adventures of JEM And The Holograms and their archrivals, The Misfits and The Stingers, in this first-ever complete collector's edition 11-DVD box set. All 65 episodes of the hit series are included, accompanied by an EXCLUSIVE bonus disc of brand-new and archival material rarely seen!
Bonus Features Include
Retrospective Featurettes, Including Brand-New Interviews With The Cast, Crew And Fans!
Original Toy Commercials
Video Jukebox
Animated Storyboards
Original Writer's Bible
Definitely a great pick or this holiday season!

The views and opinions expressed on this blog are purely that of the blog owners. Any product claim, statistic, quote or other representation about a product or service should be verified with the manufacturer or provider. I have been given a product free of charge, but that does not impact my views or opinions in any freakin' way.
Comments