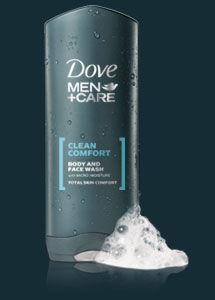 This time of year is really rough on my skin.  Fall and then winter really work a number on our dermis and cold temps usually aggravate skin conditions. With me being active at work for 10+ hours a day and also having an extremely physical job I need something that not only keeps me feeling clean, but also keeps some moisture in my skin.  Many dudes put up with cleansing products that are harsh and drying, without realizing these products leave their skin feeling dry, irritated and uncomfortable.  Dove Men+Care Clean Comfort Body and Face Wash with Micromoisture technology is clinically proven to fight skin dryness better than regular men's body wash.
I don't usually like smelling like a girly-man with all these body washes that are out there.   This body wash was formulated specifically for men who prefer a mild, unscented body and face wash.This ultra-light formula rinses off easily for a refreshing clean and total skin comfort.  Also, the Active Clean Shower Tool was created to give an even better body wash experience by delivering maximum lather and maximum scrub in each shower.
Ultra-light formula rinses easily and cleanly
MICROMOISTURE activates when lathering
For best results, use with Active Clean Shower Tool
Available sizes: 13.5 oz and 18 oz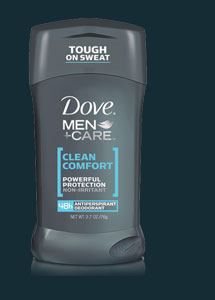 The first scented antiperspirant/deodorant from Dove specifically designed to give men protection—without compromise. Its unique formula combines one of the most effective ingredients for 48-hour protection against odor and wetness with non-irritant 1/4 moisturizer technology.
48-hour odor and wetness protection
Non-irritating formula
Tough on Sweat, Not on Skin
I hope that you all say hydrated this winter inside and out!

The views and opinions expressed on this blog are purely that of the blog owners. Any product claim, statistic, quote or other representation about a product or service should be verified with the manufacturer or provider. I have been given a product free of charge, but that does not impact my views or opinions in any freakin' way.
Comments