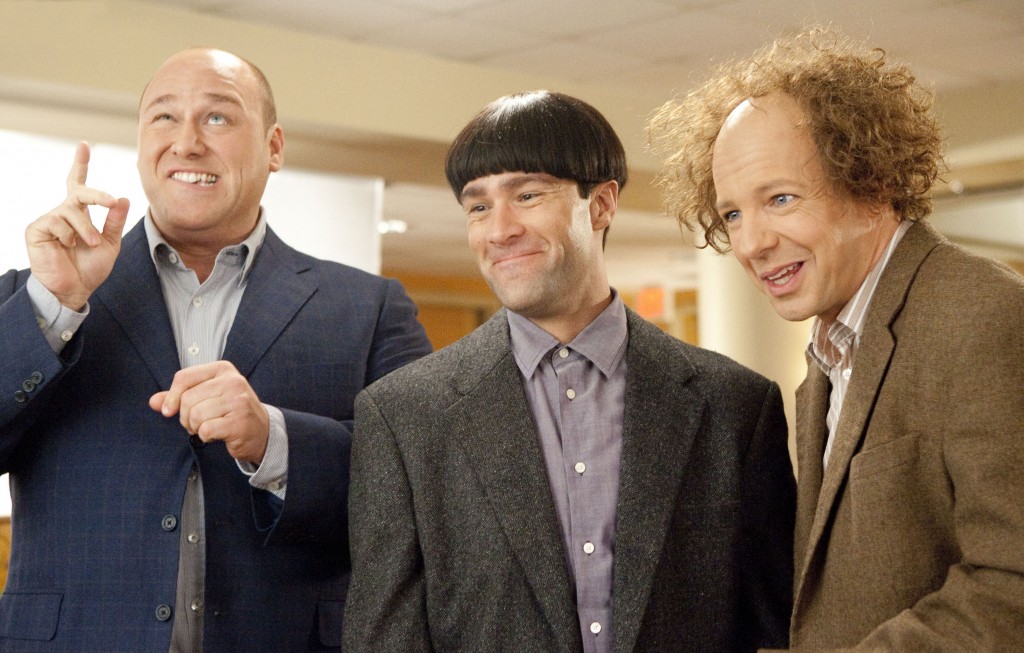 I am very fond of Will Sasso. Some may be asking "who the crackle is Will Sasso?" He is a comedian who spent many years on MAD TV and then moved on to many other sitcoms like Less Than Perfect on ABC. He is extremely comical and talented and he will be lending his talent to the new you may have heard of called The Three Stooges.
This spring, "3" + "Stooges" = the spring's funniest family movie event: THE THREE STOOGES. Left on a nun's doorstep, Larry, Curly and Moe grow up finger-poking, nyuk-nyuking and woo-woo-wooing their way to uncharted levels of knuckleheaded misadventure.  Out to save their childhood home, only The Three Stooges could stumble their way onto fame, fortune – and starring roles in a phenomenally successful TV reality show.
Rated PG
Visit the official website to play games and Get Stooged!
Follow on Twitter  #ThreeStooges
About the filmmakers and cast
The film stars Sean Hayes, Will Sasso, Chris Diamantopoulos, Jane Lynch, Jennifer Hudson, Sofia Vergara, Craig Bierko, Stephen Collins, and Larry David.
Directed by Peter Farrelly and Bobby Farrelly
Stay tuned for a giveaway coming next week for some Stooge goodies!

The views and opinions expressed on this blog are purely that of the blog owners. Any product claim, statistic, quote or other representation about a product or service should be verified with the manufacturer or provider. I have been given a product free of charge, but that does not impact my views or opinions in any freakin' way.
Comments